Once you have set up your YouTube channel, decided on the content, and have come up with a creative trailer for it, you would want to ensure that each part of your video is optimized to drive maximum engagement to your channel. You would like to motivate viewers to dive deeper into your content and find more relevant information, playlist, and videos associated with your channel. You might also want to redirect them to a blog post or a landing page where you have additional information or resources on a subject.
This is where YouTube video cards come in handy. This article will explore how you can use YouTube cards to drive maximum engagement, growth, and relevance to your YouTube videos and channel.
What Are YouTube Cards?
YouTube cards are interactive cards that you see in YouTube videos. They usually appear at the end and point viewers to other relevant videos and content so that they can spend more time with your channel or discover something else that might add to the information they are looking for from your video.

YouTube Cards are a great way of video optimization and make them more interactive. If used right, they can really help drive growth to your channel.
Why Are YouTube Cards Important?
YouTube cards have become an essential part of any YouTube video. Let's look at some of the reasons why they exist and how they can be used to churn out more value from your channel.
Helps Point To Relevant Videos
YouTube cards are a great way to help the audience discover more relevant videos. Suppose you have a video on the best PlayStation 4 games and another on the best Xbox One Games. At the end of your video, you want your audience to check out the other Xbox video as it's highly relevant to what they have been watching. By using YouTube Cards, you can point your audience in the right direction with much ease.
Great Way To Maximize Engagement
YouTube cards are an effective way to maximize engagement with your YouTube channel. As you point your videos to other relevant videos in the channel, you retain more traffic which further drives the engagement and aids you in maximizing your subscriber base and revenue with ads. You can also use interactive polls to figure out what your audience wants.
Drive Traffic And Sales
YouTube info cards can also be used to redirect your traffic to a verified site or grow your product's sale. Suppose you have written an essay about a topic you have a video on or have just set up a landing page to convert customers. In this case, you can redirect highly relevant traffic to the site or page and increase your conversion chances. Ensure that the page you point them to is authentic and not spammy, as it might turn out to be annoying from a viewer's point of view. You would also like your landing page to be fine-tuned to maximize conversions.
Ask Viewers To Donate To A Charity
YouTube cards can also be used to ask your viewers to donate to a charity. If they find the video highly useful, they might just well consider donating to a charity you ask them to. Make the process easier for them by asking them to do so during the video. Make sure you set up YouTube cards for charity and place them right when you talk about them in the video.
Ask Them To Like Your Social Media Pages
Social media can help maximize the traffic on your YouTube page. Ask viewers to follow you on social media and provide the link via a YouTube info card or as text at the end of the video. If the information and links appear just in time of you talking about your videos, then chances are that they might well be interested in following you on social media.
How To Add Cards To Your YouTube Videos
Now that you know how YouTube cards can assist you with your YouTube channel, it's time to figure out how to add cards to YouTube videos in 2021. Follow the steps below to add all kinds of cards — including info cards and end screens — on YouTube.
Step 1: Head over to Creator Studio. You will be welcomed with this dashboard.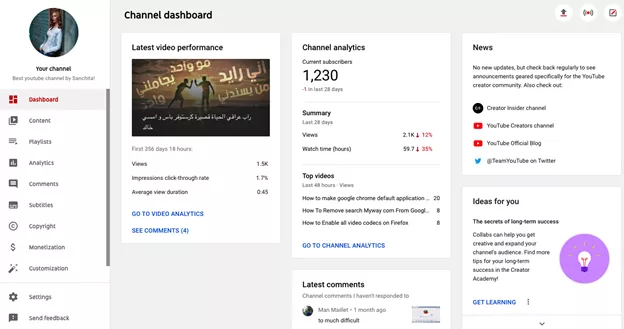 Step 2: Click on Content in the left sidebar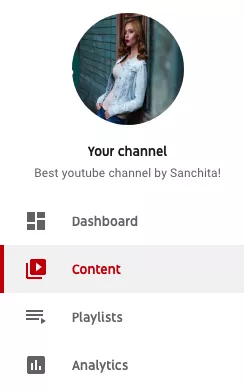 Step 3: Select the video you want to add cards to and then click on Edit Draft

Step 4: Click on Video elements.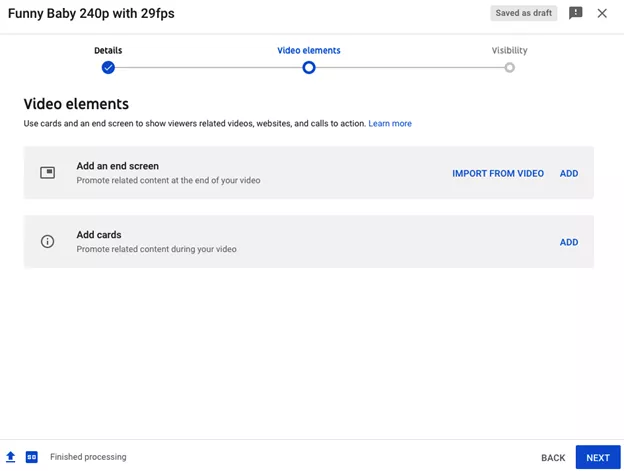 Step 5: Click on Add Cards. Here, you can add different card types with much ease.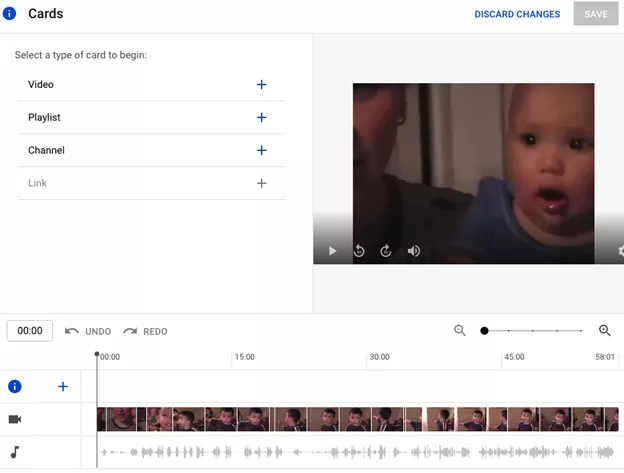 Step 6: Click Save when you are done.
The steps above on how to add info cards on YouTube and other elements are highly friendly, so you won't have any trouble exploring them on your dashboard. After you have figured out how to use YouTube cards, you can spend time getting more creative and specific to add more value to your channel for your subscribers and the general audience.
YouTube Cards Examples And Templates
Here are some of the YouTube Cards examples from some popular pages to help you decide on how you can use them with an effective end screen.
1. Suggested Video Card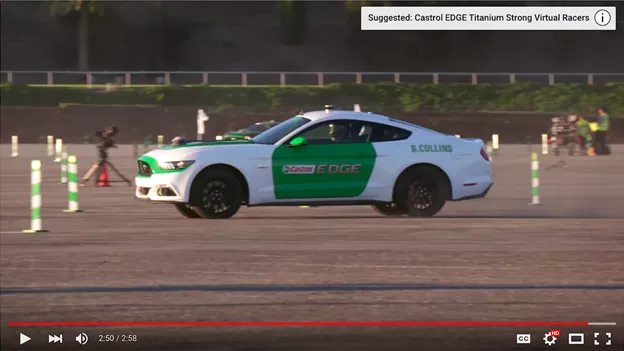 Here's an example of a suggested video card at the top-right screen which can be used to redirect viewers to a similar video that you would like them to watch.
2. Video End Cards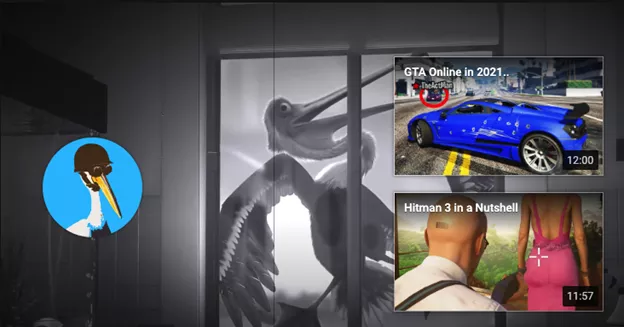 End video cards can be used when viewers are done watching the video. These cards are bigger and it really helps if you bring some relevance to them by making them similar to the subject of the video that the viewer just finished watching. In this image, you can also see the channel logo, which can be clicked to subscribe.
3. Card To An External Link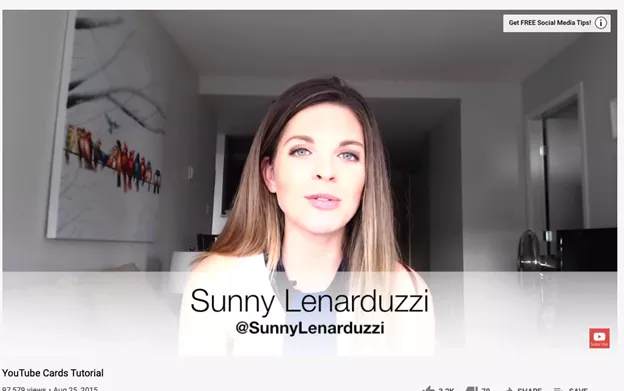 This YouTuber has put up a YouTube card that redirects to more info which she has put up for viewers to gain more access on the subject.
The Role Of End Screens
End screens can be a great space to display some of your cards, as it brings the viewer's attention to one place, from where the only option on the video-screen is to click on the card links. As far as the template for your end-screen is concerned, you can make a custom image on sites such as Canva and place them at the end of the video — you could even have your social media handles on the image so that your audience knows where to find you outside YouTube.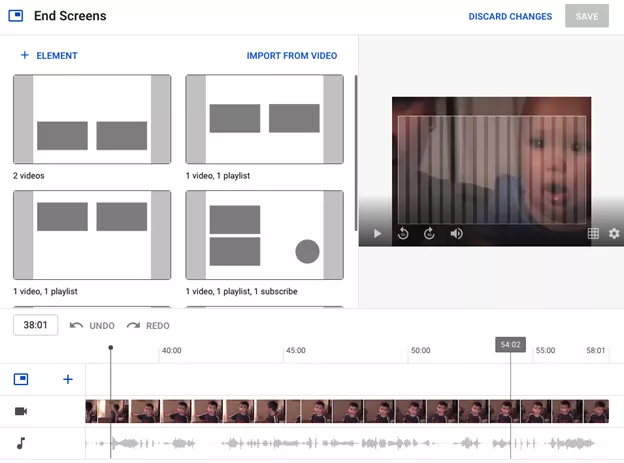 You can also import end screens from other videos on your channel. To add end screens, just click on Add end screen in the fourth step in the steps to adding Video Cards that we mentioned above.
Best Practices To Using YouTube Cards
YouTube cards can be quite handy, but you need to use them in the right way to maximize engagement to your YouTube channel. Here are some tips that can help you with using YouTube cards.
Make Sure Things Don't Get Repetitive
If you have a fanbase on your channel and chances are that several of your viewers watch one video after another, you would want to make sure that your Cards are well-picked and catered to add relevance at the end of every video. Ensure that you do not use the same video in the Cards at the end of every single video as this will make things repetitive, and you might lose on your conversion.
Use Cards Only When They're Relevant
It might be tempting to spill YouTube Cards all over the place, but try to add them only when it's relevant. If you post short videos or the videos you post on your channel are random and not so well connected with each other, then you might want to avoid cards as they might be misleading or not add much value to your audience's browsing activity.
Do Not Be Spammy
As a YouTuber, you have to ensure that your audience's privacy is well-protected. A part of this involves ensuring that you do not use YouTube cards in any way that you end up redirecting your audience to a page that is spammy and is targeted towards collecting data from visitors. If you do this, then someone might report your channel, and things could get complicated. The key is to keep things simple, creative, relevant, and spam-free.
Spread Things Out
Try to add Cards to relevant places — it could be mentioned towards the end of the video or even somewhere in the middle. If you are introducing a course somewhere in the video, try to add that card at that very point. You can use other cards at the end of the video to evenly spread information and content relevance.
Use Call To Actions (CTAs) Effectively
CTAs help viewers by pointing them in the right direction. Whenever you use a card, invite the audience to click on them by letting them know about it. That way, they will be more aware of how you use this feature and might always keep an eye out for the cards whenever they watch your videos. You can use similar CTAs for links to other sites, charity donations, and more.
Wrapping Up
When combined with effective end screens, YouTube Cards can add creativity to your YouTube channels and grow their value by adding much relevance. The best way to develop unique ideas is to check out what other YouTubers have been doing and then find inspiration around them. That way, you will know that your idea will work and add value to your audience's browsing habits.
With enough practice and understanding of your audience, you will know how to use YouTube cards in the most effective manner over time, and this will help in growing your channel steadily.