The popularity of YouTube has risen beyond expectation, and YouTube is now the second most-visited website globally, right after Google. It has grown into the world's largest video platform, with an astonishing number of users and an even more astounding number of video offerings.
The content posted on YouTube is both corporate and user-generated. It varies greatly, ranging from advertisements, promotional videos, music, gaming, DIY, educational videos, and much more. This online medium's fantastic popularity is drawing new users daily, with many working tirelessly on becoming the next big YouTube wonder.
But have you ever wondered how many people use YouTube a day? How many videos are uploaded every day? How much money the top YouTubers make? How much time does the average YouTube user spend on YouTube?
Read on to find out 47 unbelievable YouTube statistics and facts that will amaze you. We have included some basic facts and some of the most mind-blowing facts about YouTube in 2021. We've separated the YouTube stats into several categories, so you can more easily grasp the enormity and global impact of this online giant.
YouTube Video And Channel Statistics
Here are the essential YouTube statistics related to videos and channels. The numbers that we've shared below may seem incredible, but it is, in fact, true that about 500 hours of watch time are uploaded each minute. All the YouTube stats here are real, no matter how incredible they seem.
1. How many videos are on YouTube: no one can provide a definite answer to this, as new content is continuously uploaded – 500 hours of watch time are uploaded every minute
2. How many videos are watched on YouTube: One Billion Hours of YouTube video content is watched daily
3. Which video first reached 1M views: an advertisement by Nike featuring Ronaldinho hit 1 million views in November 2005
4. Which video first reached 1B views: the South Korean music star Psy's music video for "Gangnam Style" reached 1 billion views in December 2012; the same video became the first one to reach 2 billion views in May 2014
5. Which is the most-watched video on YouTube: "Baby Shark Dance" reached 8 billion views in February 2021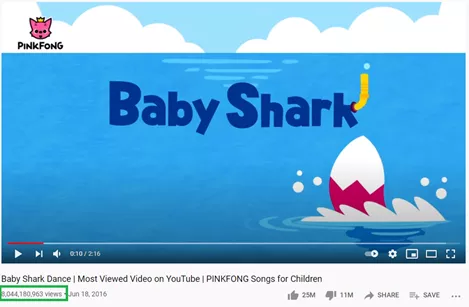 6. How many YouTube channels are there: at the moment, it is estimated that there are over 38 million YouTube channels (the condition is for a channel to have more than five subscribers, according to Statista, there are many more with zero subscribers)
7. There are over 40 million active gaming channels on YouTube; over 350 of these have over 10 million subscribers
8. Which is the most subscribed YouTube channel: the Indian music channel T-Series is currently the most subscribed YouTube channel with over 172 million subscribers in February 2021
9. Which is the most viewed YouTube channel: the Indian music channel T-Series is the most-watched YouTube channel with over 144 billion views in February 2021
10. Which is the most liked YouTube video: the music video for the song "Despacito" by Luis Fonsi feat. Daddy Yankee currently has 42.9 million likes
11. Which is the most disliked YouTube video: at this time, the YouTube video with the most dislikes is "YouTube Rewind 2018: Everyone Controls Rewind" with 18.94 million dislikes. The music video with the most dislikes is Justin Bieber's "Baby," with 12.05 million dislikes.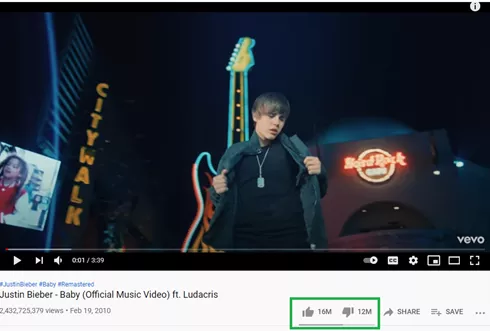 YouTube Revenue Stats and Facts
Here you will learn the crucial facts about the money aspect of YouTube. The YouTube statistics about the platform's revenue and the highest-paid YouTube stars are all outlined below.
12. YouTube was bought by Google (now part of Alphabet) in 2006, paying $1.65 billion in Google stock
13. In 2019, YouTube's advertising revenue was $15.14 billion; estimates are that in 2020 this will increase by about 36%
14. Estimates say that YouTube has earned about $4.04 billion from non-advertising sources (subscriber revenue and the like)
15. In 2019, about 10% of the total Alphabet (YouTube owner) revenue was due from YouTube
16. The number of YouTube channels that earn more than $100K a year grows by 40% yearly
17. The average YouTube influencer with anywhere between 500 and 5K followers can earn about $315 per video; the YouTubers with more than 500K followers earn about $3857 per video
18. The average monetized YouTube channel earns about $0.5/1000 video views from ads display
19. The average payment is $18 for 1,000 ad views on Youtube
20. The highest-paid YouTuber is Ryan Kaji, with $29.5 million in earnings in 2020
21. According to Business Insider, YouTube's worth is estimated to $300 billion
YouTube Usage Stats and Facts
See more interesting facts and statistics on YouTube usage. Here we talk a bit about the number of users who log into this platform daily and similar YouTube stats and facts.
22. How many people use YouTube: YouTube has 2.3 billion active monthly users; 79% of Internet users have a YouTube account
23. How many people use YouTube daily: YouTube has over 30 million active daily users
24. After Google, YouTube is the second most-visited site in the world; it is also the second most-used search engine
25. All YouTube accounts can upload videos up to 15 minutes in length; verified accounts can upload videos up to 12 hours long
26. YouTube is the world's most popular and most-visited social platform
27. 70+% of YouTube users watch YouTube on a mobile device
28. 74% of US adults use YouTube almost daily
29. 37% of all mobile internet traffic is due to YouTube
30. The first YouTube video is from 2005, posted by one of the founders, Jawed Karim, where he looks at the elephants in the San Diego Zoo
31. Videos get about 10 seconds to hook a viewer; if people don't like the video in the first 10 seconds, they skip it for another YouTube recommendation
32. YouTube Music and YouTube Premium have over 20 million paying subscribers
YouTube Users And Demographics
Here we outline the most important YouTube stats related to its user base. Read on to find out more interesting facts like how many guys and gals use YouTube, who is the oldest YouTuber, and lots more.
33. 12-34 year-olds are the largest YouTube audience,
34. 44% of YouTube users are female, 56% of YouTube users are male
35. The average age of YouTube content creators is between 18 and 35 years of age
36. YouTube is the best babysitter: 80% of US parents say that they let their children (11 and younger) watch YouTube daily
37. The average YouTube user spends close to 42 minutes on YouTube daily
38. 91-year-old Hamako Mori is the oldest video game YouTuber, known as Gamer Grandma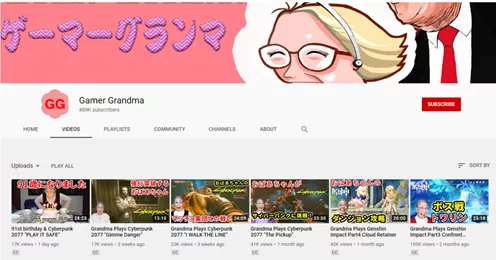 39. 16.4% of all YouTube traffic is from US users, followed by India with 9.2% and Japan with 4.8%
40. 51% of people over 75 watch YouTube videos
41. 62% of all global businesses use YouTube as a promotional platform
Fun Facts About YouTube
Here are a bunch of random YouTube stats and facts that you may find interesting.
42. YouTube is available in 80 languages
43. YouTube is localized in 104 countries and one territory (Hong Kong)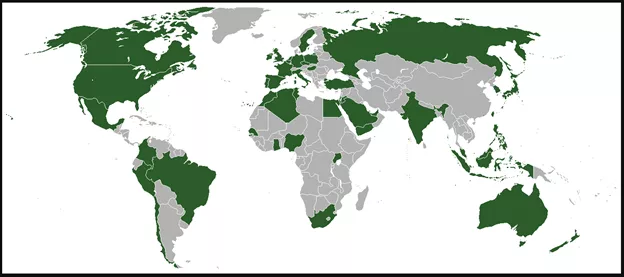 44. 70% of YouTube users follow the recommendations for their next video
45. YouTube was founded in 2005 by Steve Chen, Chad Hurley, and Jawed Karim, three early PayPal employees. They paid the initial investment with the bonuses they got from the sale of PayPal
46. Global changes in 2020 contributed to a massive rise of YouTube views: many niche topics saw an increase from 50% to 500% and more in some cases.
47. About 60% of all YouTube content is censored in many countries around the world