In the realm of video SEO tools, VidIQ and TubeBuddy reign supreme. Anyone serious about their YouTube channel uses either one of these tools (if not both) to grow their channel, optimize their videos and make better content on YouTube.
Now, we know what you're thinking. "Hey, GetFans team, you've already done a VidIQ review and a TubeBuddy review!". Trust us, we know. However, this article is going to take these two YouTube SEO tools and pit them against each other, ultimately deciding which one is better. So without further ado, let's get started.
The Web App
Both VidIQ and TubeBuddy have a web app that you can access by going to their website and logging in. In our opinion, VidIQ's web app is better than TubeBuddy's because it's very straightforward and easy to navigate. With TubeBuddy, you have to click on the Launch Pad icon to reach all the functionalities and tools TubeBuddy has to offer. With VidIQ, everything is organized in neat tabs at the top of the page and you can easily access whatever you need.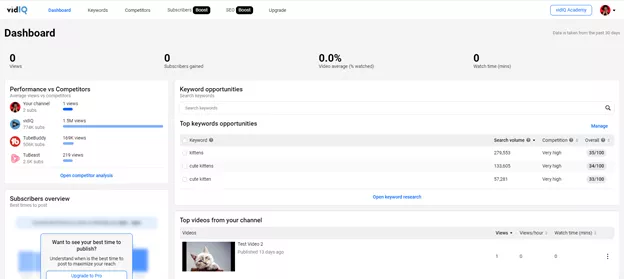 Features-wise, TubeBuddy has a little more to offer - if you're willing to pay. While most of VidIQ's tools and features are available for free, TubeBuddy proved to be a little stingy when it comes to giving people free tools. You'll have to pay your hard earned money if you want to make the most out of both tools, quite frankly. While the number of tools available puts TubeBuddy at an advantage compared to VidIQ, you'll soon find out that VidIQ beats TubeBuddy based on tool-availability alone.
Take, for example, the competitor research feature. On TubeBuddy, this feature is only available for Legend license users alone (which also happens to be the most expensive plan TubeBuddy has to offer). On VidIQ this feature is free (with some limitations). This puts VidIQ in an advantage because anyone can do competitor research on the platform. If they want more features and possibilities, they can pay - but the premise is that they don't have to. This is a huge win for VidIQ in our book, since most YouTubers start from the very bottom and don't necessarily have the money to spend on SEO tools.
Another important thing to note is that VidIQ offers Bulk SEO tools - and TubeBuddy doesn't. With Bulk SEO you can edit multiple videos' metatags in one go, thus saving you precious time. It is important to note that the Bulk SEO option is only available for paid users, though. Which is a little disappointing, because it's such a great tool to have.
VidIQ also offers a chance to research your subscribers to learn what they like to watch on YouTube and gain insights into their preferences. This is a paid feature as well and isn't a must-have by any means, but it's a cool option to have.
On the other hand, TubeBuddy offers rank trackers and VidIQ doesn't. Rank trackers are great for keeping tabs on how your content is doing on YouTube. If you know where you're ranked, you also know how to improve or what to do to stay on top of your game. Yet again, this feature isn't available for free users and is only available for paid users. What a shame.
Finally, TubeBuddy has an A/B Thumbnail Testing feature that VidIQ doesn't have and yep, you guessed it - it's for paid users only! This tool isn't a must-have as well, but it is nice to be able to test different thumbnails to see which one performs better and has higher CTR. As we all know, the higher the CTR, the more views you have. The more views you have, the better your watch time is. The better your watch time is, the higher you'll rank and get suggested by YouTube's algorithms.
The Chrome Extensions
TubeBuddy's and VidIQ's Chrome extensions are pretty much identical. Both are free to download and use and will help you with keyword and competitor research directly from YouTube's platform.
Search Sidebar
Both tools have a sidebar for the search results page that adds more information on a given keyword. While TubeBuddy only shows you the keyword competition score and monthly search volumes, VidIQ will show you some added stats about the keyword such as who the top creator for that keyword is, how many times it appears in titles and descriptions and the average number of subscribers channels using this keyword have (among other stats that you can take a look at in the screenshot below). Design-wise, both are easy to read and look great.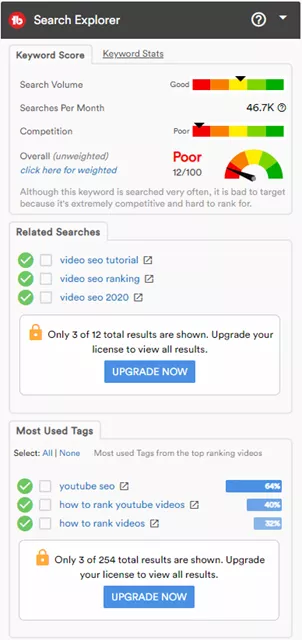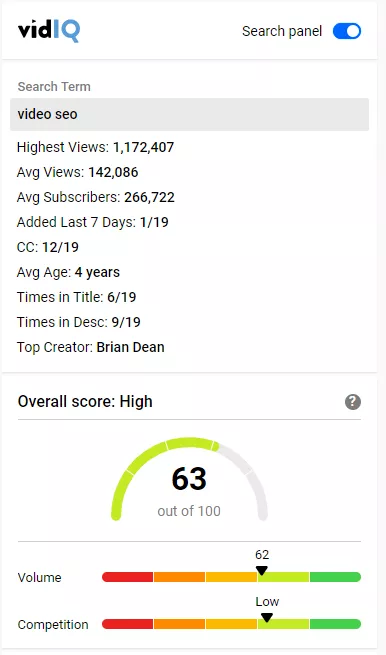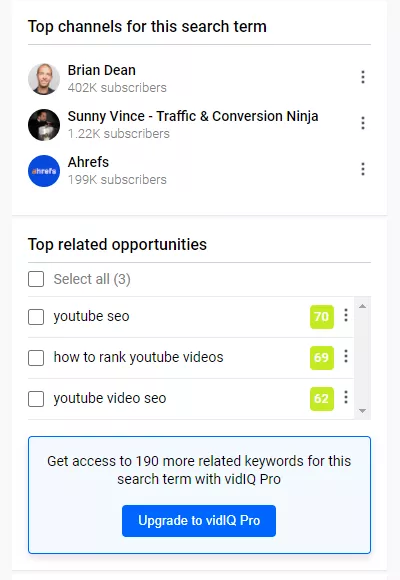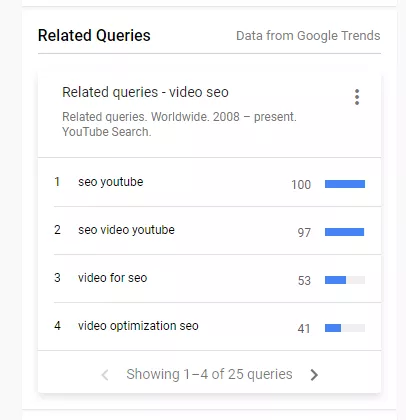 Furthermore, both tools will reveal video tags for the search results. VidIQ will also show you the amount of shares the video got, the likes/dislikes ratio in percentages and how many subscribers a channel has right on the SERP.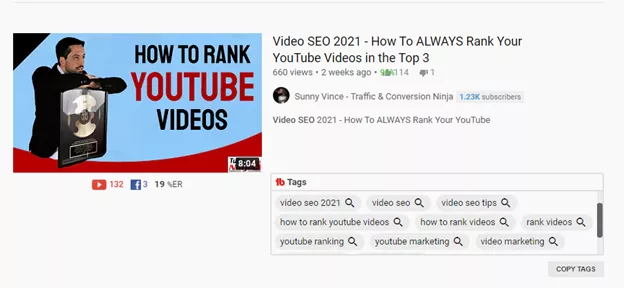 Both tools give you more information such as related keywords and most used tags. You can get even more information out of both tools if you used their paid plans.
Both tools are strong when it comes to the SERP sidebar. VidIQ, however, features more detailed insights into the keywords you're researching. That said, TubeBuddy can give you a better idea of how well your video will perform in a search for that keyword. You can use both tools, obviously, but we find that in spite of it all, VidIQ is much more beneficial here than TubeBuddy is.
Video Page - Video Analysis
Both video analysis tools are fantastic, in our opinion. They provide detailed information and data about the video you're currently looking at - and that's any video on the platform, not just your own. Both tools also give useful statistics that will help you see the performance of any given video (your own or your competitor's).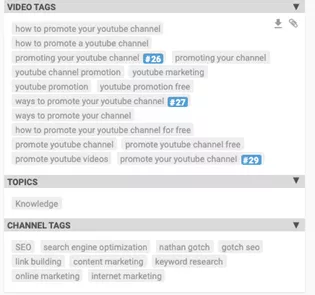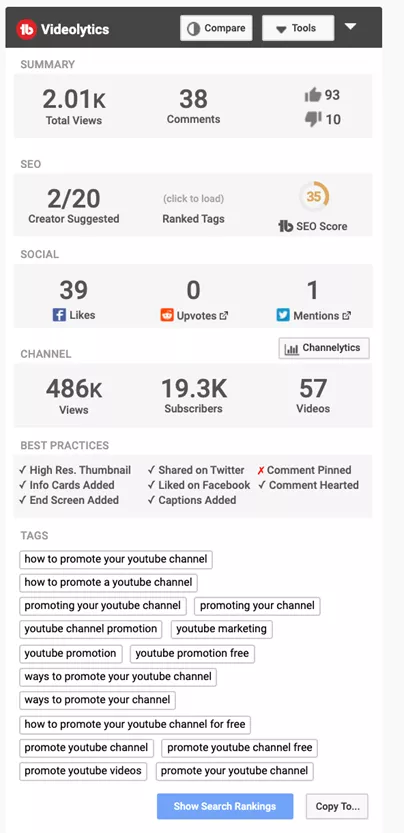 TubeBuddy also gives you the option to copy the tags and see the search rankings for specific tags on the list. However, we still feel that VidIQ is superior here. It's easier to read and while the statistics given are very similar, VidIQ simply offers more and is more convenient to read and use.
Channel Statistics
Both tools make changes to a channel page (that only you can see) and add some general stats for a channel. Both TubeBuddy and VidIQ show you stats for a given time period, as well as channel keywords. VidIQ gives extra information such as channel category and location, as well. There isn't that much of a difference between the platforms other than that little bit.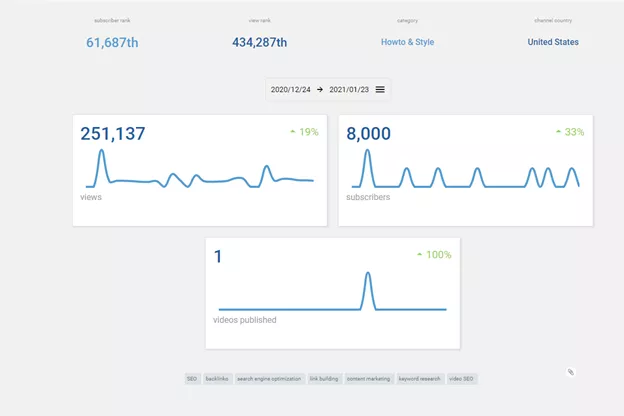 VidIQ Or TubeBuddy - Our Bottom Line
If you don't want to pay a fortune, go with VidIQ. Most of the free features are more than enough for a starting YouTuber and if you do feel like you need to get more out of VidIQ, it's definitely a better investment of your money.
TubeBuddy has more features, yes - but it also costs more to get access to all of those features. You basically have to have the Legend license to get unlimited access to all the cool tools and features on the platform and if you're just starting out - you might not have the cash for it.
So, for us, the winner here is VidIQ. There are, of course, other options and SEO tools that you can use (such as TuBeast, for example), but if you want to play it safe and go for one of the "big boys", we definitely feel like VidIQ will be your best bet.