With the enormous popularity and the two billion+ active monthly users, YouTube is the second most-visited site globally. Unlike the other social media sites out there, YouTube also has many conventional search engine traits. It is of great importance for the way videos rank on YouTube; it also influences how you need to optimize your videos.
To rank higher on YouTube, you can resort to buying YouTube views, but you'll also need to enhance your videos to appeal to a broader audience. Since YouTube is both a search engine and a social media platform, you can utilize many SEO tricks to optimize your YouTube content. If you plan smartly, you can seriously boost the video rankings of your content, but only by using the correct SEO tools.
Stay tuned as we provide a detailed explanation of the various YouTube SEO tools you can use to rank higher on YouTube. Please note that we have covered several free SEO tools and several that require payment. Each has its own merits, and it is up to you to select the right ones for you.
What Are YouTube SEO Tools?
You may have an abundance of cool ideas that you think would fare well on YouTube and among viewers and subscribers. But little does this mean if you don't optimize your content and focus on your videos' quality and discoverability. That is where the YouTube SEO tools come in.
These little helpers serve to help you along the path to YouTube growth. The different SEO tools have different applications and aspects, but fortunately, the same ultimate goal – help rank your videos higher on YouTube.
SEO or Search Engine Optimization tools do what the name suggests – help YouTube creators ('YouTubers') optimize their content to rank higher in the YouTube search results. But not all of these are created equally. We have divided these into several categories based on their primary application and purpose. To be more precise, we'll cover the main four categories of YouTube SEO tools you must meet to become a successful YouTuber -
YouTube keyword research
YouTube tags generator
Competitors analysis tools on youtube
YouTube channel management tools
Why It's Important To Use SEO Tools For YouTube
The popularity of YouTube and the billions of active users have made it all about the content, so it is no wonder why many YouTube creators forgot crucial details and then are left to wonder why their content doesn't rank high. This happens in terms of using unoptimized keywords, not using the right tags, using mediocre thumbnails, and similar things. To be successful on YouTube and get more views and more subscribers, each creator needs to keep in mind things like keywords, adequate tags, attractive thumbnails and much more; all of which we'll cover here on our blog.
The various SEO tools for YouTube help the YouTube creators improve their content and increase views and subscribers. Let's say you have a video on a popular home improvement topic. Even if you make the best video, it will not reach the intended audience without serious optimization – one which you need to make. It means that besides the great video, you will need a great title and video description, along with detailed tags. These will help YouTube identify what your video is about and will know when and where to display your video.
To entice your viewers to click on your video and watch it, you'll also need a great video thumbnail. To know which keywords are popular among the public and which tags to use, you'll need to use keyword research and tags generator tools. Also, to see what your competition is doing, you'll need to make a proper competitor analysis. To grow on YouTube, you will need to optimize each aspect of your YouTube channel properly. Each of these aspects of optimizing a YouTube video is directly dependent on an SEO tool.
YouTube Keyword Research Tools
These are the most popular YouTube keyword research tools you as a YouTuber can use when looking for the right keywords to use in your YouTube videos. When thinking of how to do keyword research on YouTube, you should think creatively and use the apt tools. Please note that the keyword research tools below are not arranged in any order, as there is no one uniquely best SEO tool - each has its own merits.
1. Google Keyword Planner
The Google Keyword Planner is a keyword research tool that provides insight into how often specific words are researched. It also provides an overview of how the searches change over time and provides suggested keywords and phrases related to your niche topic. This data could be an asset when planning a YouTube marketing campaign.
It is entirely free to use the Google Keyword Planner tool. But there is a catch – you need to sign up for a Google Ads campaign. To do this, you need an active Google account to sign up for a Google Ads campaign; you don't need to run the campaign. Sign up for one, and you get free access to the Google Keyword Planner tool.
After you sign up for a Google Ads campaign, you need to enter the Expert Mode. Follow the step-by-step instructions on the screen, and you will be set with a Google Ads campaign in less than 2 minutes. Once everything is in place, you can access the Google Keyword Planner by clicking on the wrench menu link on the top of the page. Once you enter the Keyword Planner tool, you are free to roam and explore various keywords. You'll note that the Keyword Planner depends strongly on your input. The more precise keywords you start with, the better results you are going to get.
As you can see below, we searched for electric guitar and handmade guitar and got a pretty extensive list of all the related keywords and their average monthly search volumes. We'll not go into more detail about this, as Google Keyword Planner is primarily a tool for PPC campaigns, so you can discard the bidding fees, as they are not relevant to your YouTube keyword research quest.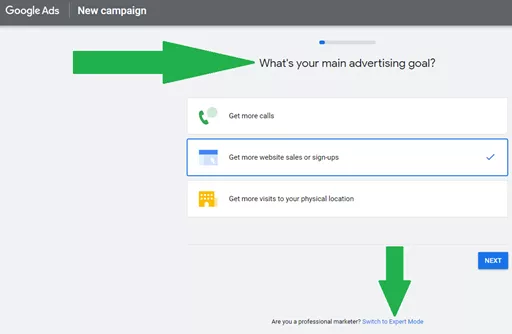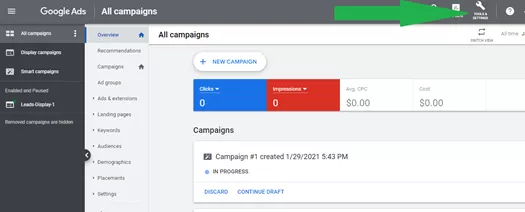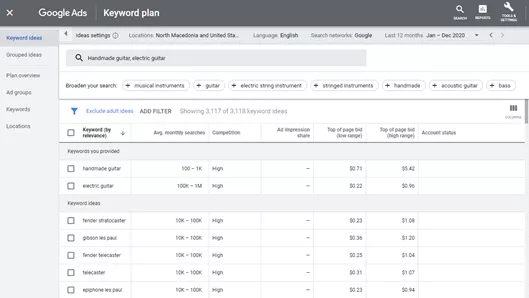 2. Ahrefs Keyword Explorer
Ahrefs.com is a toolset for SEO analysis and backlink analysis. Here we'll talk about their YouTube Keyword Tool, which you can use to discover great keyword ideas. Along with the suggestions, you can also analyze your preferred keywords' ranking difficulty and even calculate the traffic potential of your selected keywords.
To use the Ahrefs YouTube Keyword tool, you need to get an account on Ahrefs. Depending on the plan you select, the prices vary. After you get your account paid for and set up, you can start searching for popular and effective keywords.
You need to select YouTube as a search engine so your search will be relevant and provide the best results optimized for YouTube use. Type in your suggested/general keyword, and you'll see a detailed results page with plenty of details. Browse through the displayed analytics and see the search volumes, see the suggested SEO keyword ideas, and much more.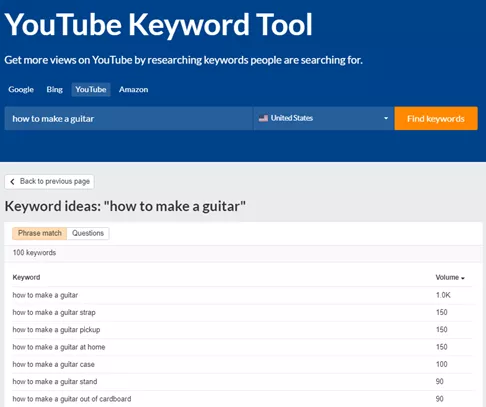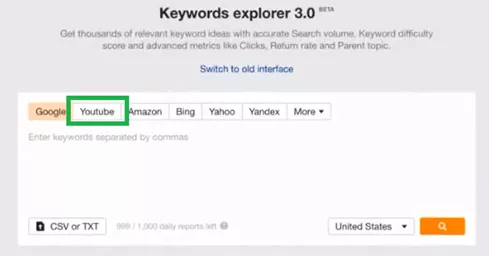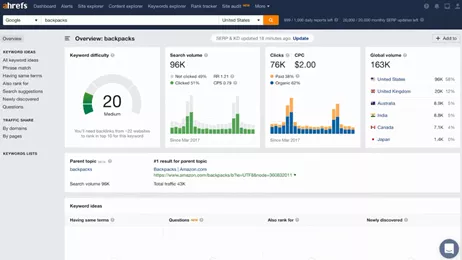 3. Moz Keyword Tool
Moz is an SEO toolset with features that help you plan, execute, and improve your SEO strategy. Here we'll talk about their Keyword Research Tool. You can use the YouTube Keyword Research tool for free by simply creating an account with Moz, which will take you less than a minute. Note that the free version only gets you ten free searches a month; for more, you'll need to pay the full price.
After you confirm your account, you can immediately start searching for keywords. You'll see all types of performance statistics related to your keywords. Moz Keyword Tool lets you create keyword lists to manage different topics and plan keywords for your next YouTube video. You also get to see keyword suggestions and seed keywords.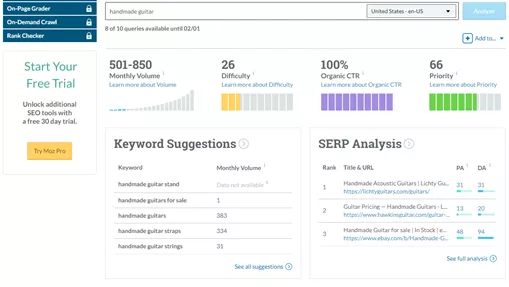 4. Tube Buddy
Tube Buddy is a free SEO tool for YouTube that available as a browser extension and a mobile app. This tool works by integrating your channel directly into YouTube and helps you more easily to manage and optimize your YouTube channel. The famous alternative/competitor of Tubebuddy is VidIQ, so in order to compare between vidiq vs tubebuddy, you should do your own research.

TubeBuddy has plenty of specialized features to improve the video SEO on your YouTube content, including the keyword explorer tool.
To start using Tube Buddy, you can install the browser extension by clicking on the Install Free Now. I use Google Chrome, and the installation/set up was fairly straightforward. After the installation is complete, you need to sign in to the extension with the email you use on your YouTube account. The whole process takes about 2 minutes.
Once everything is set up, you will notice that not all the features are available in the free version. To gain access, you need to select a payment plan based on your budget and the features you want to use.
To use Tube Buddy's Keyword Explorer, you need to launch the app from your YouTube page, select the Keyword Explorer and start typing keywords. You can see a summary of your selected keyword's performance, most used tags, customizes keyword lists, search result list, historical popularity of the selected keywords, and a map showing interest by region. This information can help you better hone the keywords you should use for video optimization and to better optimize your YouTube channel.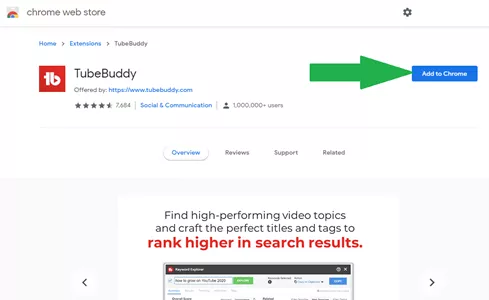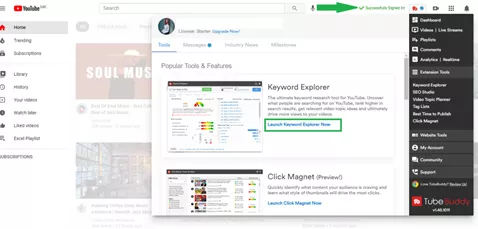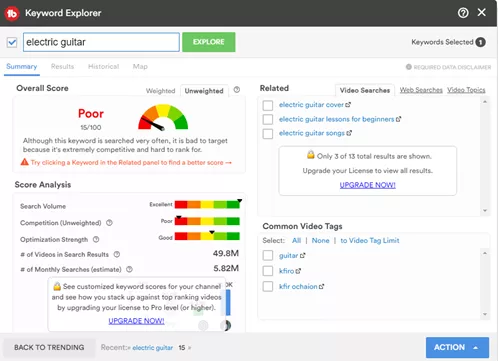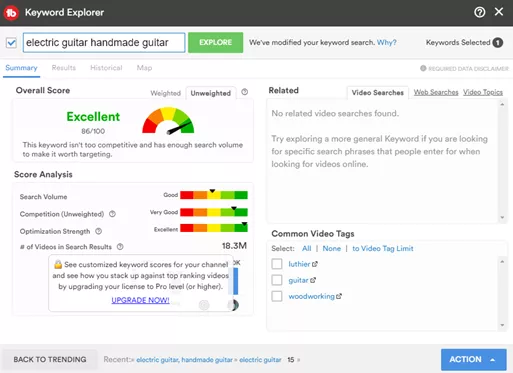 5. vidIQ
vidIQ is an online YouTube optimization tool that, among other things, helps you find suitable keywords for your YouTube videos. To use the keyword tool by vidIQ, you need to sign up for vidIQ. If you opt for the free version, you'll have partial access to the available features; you will need to become a paying customer for complete access.
To do keyword research on vidIQ, you'll find the Keywords button in the main menu on the top of the app page. From there, you simply follow the steps, and you will get an extensive list of suggested keywords that would be appropriate to use in your next YouTube post. The keywords come with search volume score, competition score, overall score, and more.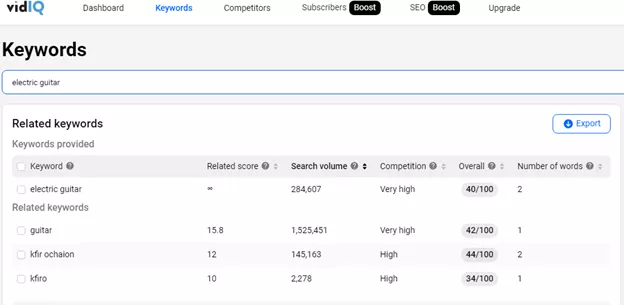 6. TuBeast Keyword Tool
TuBeast is an online SEO tool for YouTube, that also comes with a browser extension. It allows plenty of features to improve your video SEO to boost video rankings and increase viewers and subscribers. Here we'll take a closer look at their YouTube keyword research tool. To get access to this tool, you'll need to make an account with TuBeast.
It is simple, as you can sign in with your Google account, which takes less than a minute. The free version allows only five searches, so to make more detailed searches, you'll need to become a paying member of TuBeast.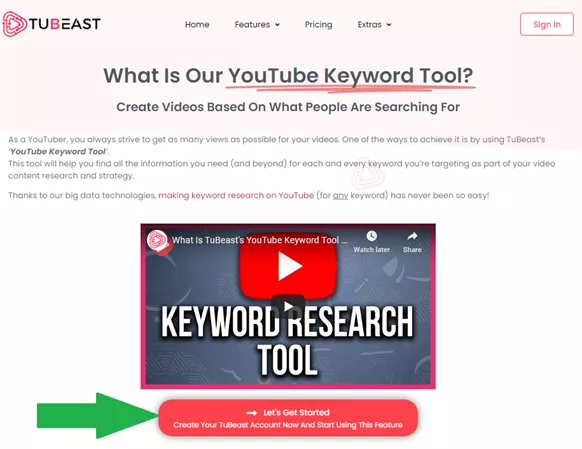 After you sign in, you'll see the app's homepage; on the left side of the screen, there is a menu with all the features. To use the YouTube Keyword Tool, you only click on it and type in your preferred keyword. The app takes some time to come up with a very detailed report. You get to see related keywords and trending keywords based on your search. The related keyword results also provide insight into the monthly volume of searches, competitor scores, and suggested actions. Based on these, you can plan your next YouTube campaign and include the keywords with the highest chance of ranking high in the YouTube search results.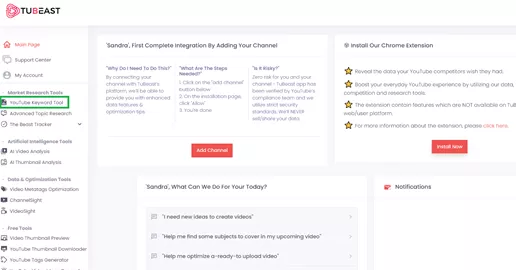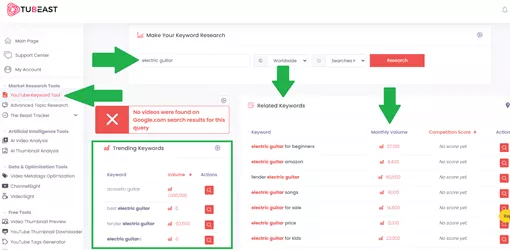 7. Google Trends
In the long list of keyword research tools, we need to include Google Trends. It's the ultimate free SEO tool that helps you explore what the world is searching for, as is their tagline. The use of Google Trends is very straightforward, as you don't need to create a user profile or install anything. Simply search for Google Trends on Google, enter the site, and you are ready.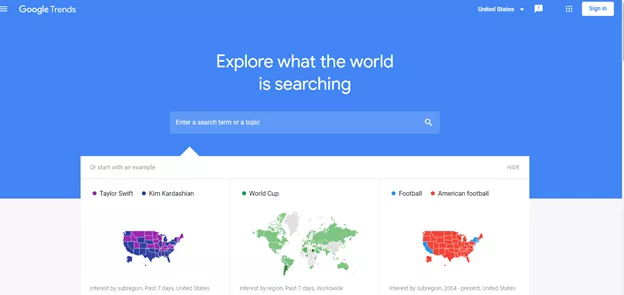 To do a YouTube keyword search, first set the region, the search's period, the category your keyword is in, and where to search. Then you enter the keyword in the search bar on the top of the page and click Enter. You will see the results shown almost immediately, in the form of a chart. In the image below, you can see that we used the keyword electric guitar, set the location to the United States, the period was set for the past 30 days, all categories in YouTube Search. A detailed map shows interest by regions and related topics and related queries on the page below.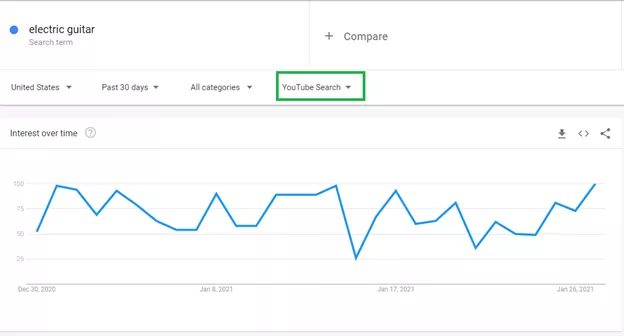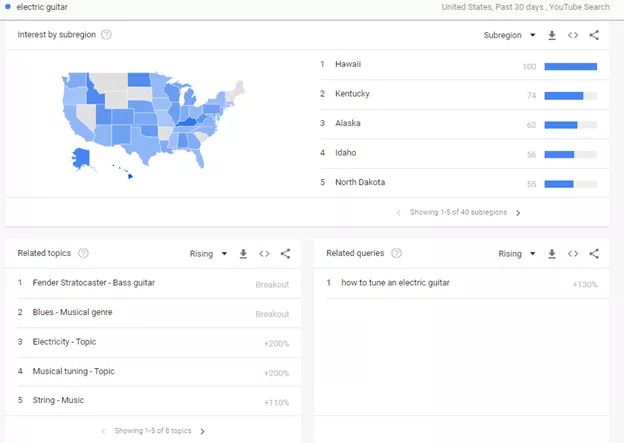 You can use Google Trends to compare keywords and see how they fare in the selected period. You can see our search in the image below: we searched for three keywords related to each other and how they ranked in the past 30 days. Based on the popularity of the selected keywords, you can plan your YouTube SEO strategy and opt to use the SEO keywords with the highest impact.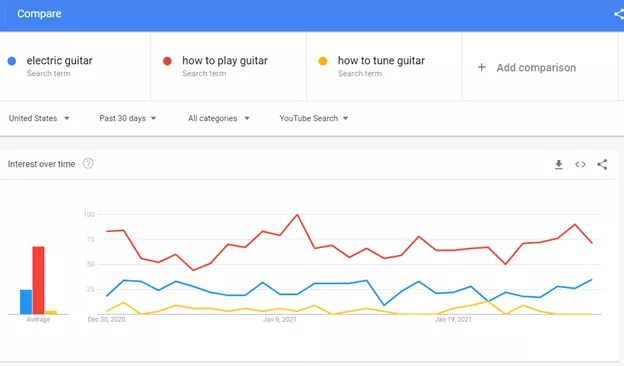 YouTube Tags Generators
Another critical part of your YouTube SEO strategy is to have excellently optimized video tags. You can try and think of tags relevant to your topic on your own, but often this will be an incomplete and maybe inappropriate list. Thus, the smart approach is to use a tag generator tool. Here we've prepared a selection of some of the most useful tag generator tools you can use now.
1. RapidTags
RapidTags is a YouTube video SEO tool that offers solutions to increase the traffic to your YouTube channel and videos. It does this by generating SEO-effective tags for your YouTube videos. The RapidTags tag generator is simple to use, is free, and does not require sign-in or profile creation.
To use it, simply open the RapidTags site, scroll down to the tag generator, and click on the Use Tool For Free link. It will take you to a new page where you need to enter the name of your YouTube video for which you need to generate tags.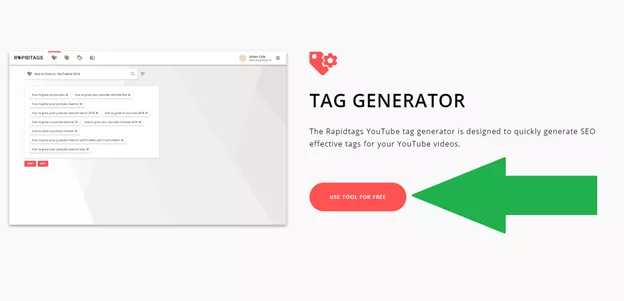 From here, you'll be shown a list of suggested tags that correspond to the title of your video. You can copy them and directly paste them when uploading your next YouTube video. It is that simple, indeed. As an example, we typed in "How to build electric guitar" in the search bar, and a list of the appropriate tags was displayed, as you can see from the image below.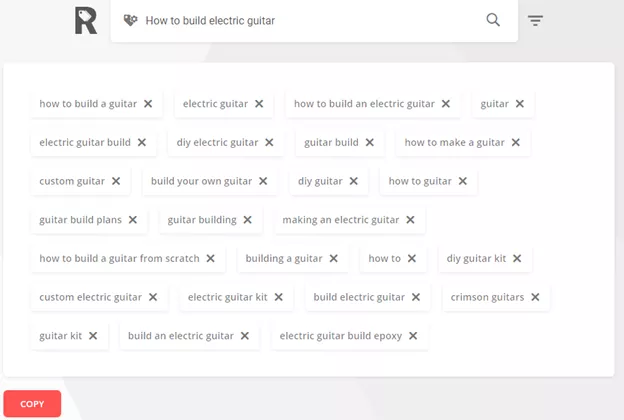 2. TuBeast
Not only can you use TuBeast as a YouTube keyword research tool, but you can also use its tag generator feature to get excellent suggestions about the tags you should use in your next video. Since we covered the sign-up process for TuBeast above, here we'll only talk about the tag generator feature.
It is located near the bottom of the left-side menu. Click on the YouTube Tags Generator link and enter the name of the video you want to generate tags for, and click on the search button or simply press Enter. Almost immediately, a list of suggested tags will show up below, and if you like them all, simply copy and paste them when you upload/edit your YouTube video.
To test the provided options, we have used the same YouTube video name in all our examples, and below, you can see the suggested tags for the video named "How to build electric guitar."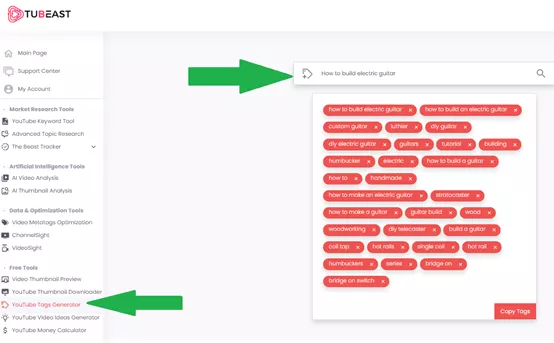 3. TagsYouTube
TagsYouTube is a free online tool that helps you generate titles, hashtags, descriptions, and more, but it also has a tag generator tool. To use the tag finder, as TagsYouTube has named their tag generator, you simply need to visit the site and select the tag finder in the main menu on the top of the page.
To generate tags for your video, you need to enter your keywords or paste the URL of your video, then click on the Get Tags button. You'll see a list of suggested tags based on your keyword/video. Browse through them and select the ones you think match your video best. If you like them all, you can click on the button Copy Tags and then paste them while editing your video.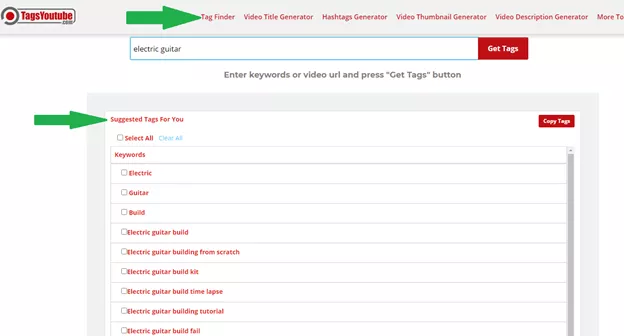 4. GetFans
We are a little biased when outlining the GetFans.io tags generator tool, but we could not avoid outlining it here. This free online tool for tag generating is simple and straightforward to use; it does not require sign-in or profile creation.
To use it, simply visit the tags generator page, put in your keyword, and start generating tags. After you hit the generate tags button, you will see a list of suggested tags that match your keyword. You can browse through them and select all or just the ones you like, and then you can paste them directly to your YouTube video tags section. It does not get any easier than this.
Using our tags generator can help you find the best, most appropriate tags for your videos, and it is absolutely free. Plus, you get to optimize your videos for the best reach, and you can significantly improve your channel and get more views and more subscribers.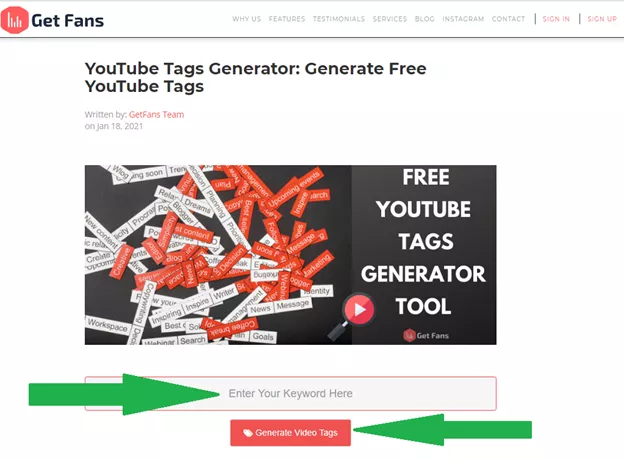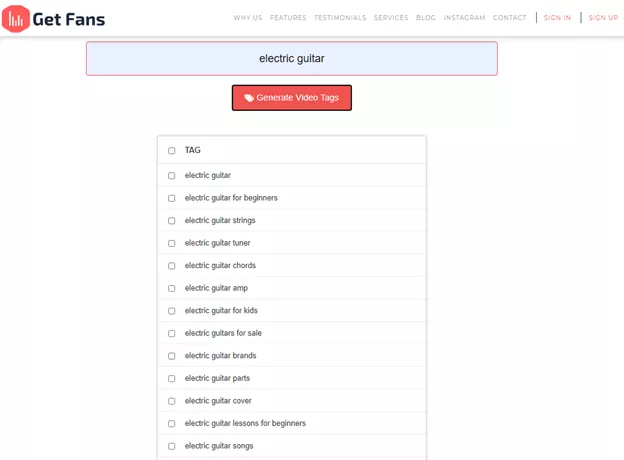 Competitors Analysis Tools on YouTube
In your aim to rank higher on YouTube, you should check out what your competitors do and how their content performs. Basically, you should spy on your competition. To do this, you will need competitor analysis tools that will do the snooping for you and show you comprehensive results. Based on these, you can make the necessary adjustments, improve video SEO on your content and optimize your channel for better performance. Here are several tools that are great for making competitor analysis on YouTube:
1. Social Blade
Social Blade is an online platform that shows the stats for any YouTube username. The results outlined here are generated from YouTube's public API. The platform aggregates the data, processes it, and then displays it comprehensively.
To use Social Blade for YouTube, simply visit the main site and enter the name of the channel you are looking to check out. To test the results Social Blade provides, we've tried two YouTube channels: Veritasium and Physics Girl. The first one is an educational channel, while the latter is rated as a tech channel, but both have similar topic videos. First, we checked the individual stats and then did a comparative analysis of both channels.
If you browse the images below, you will notice the detailed reports and predictions about each channel separately and the level of details on the comparative analysis reports. Plus, you get to use Social Blade for free.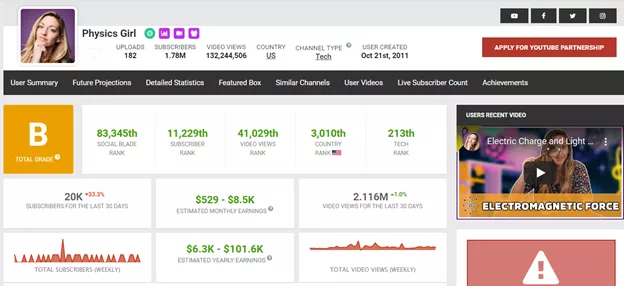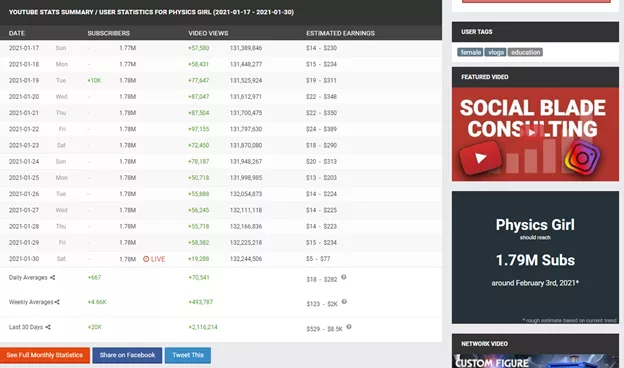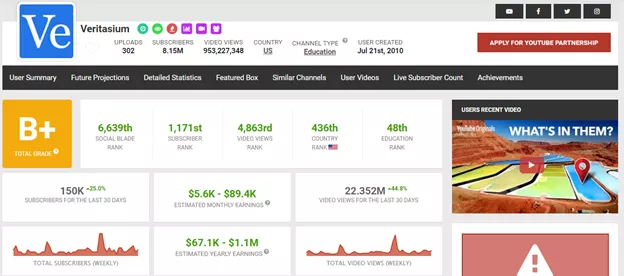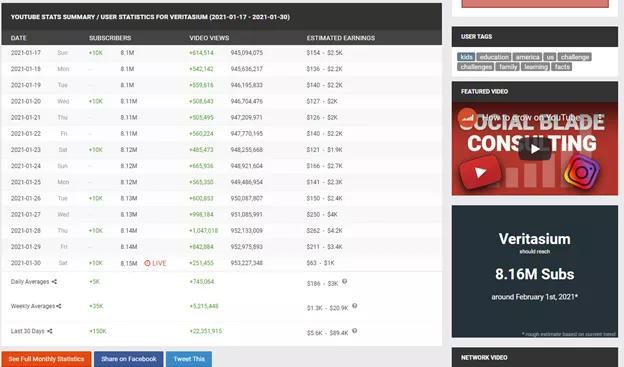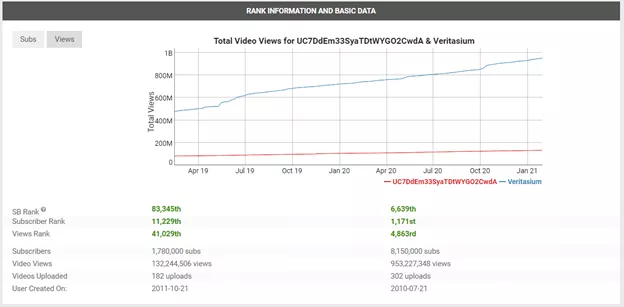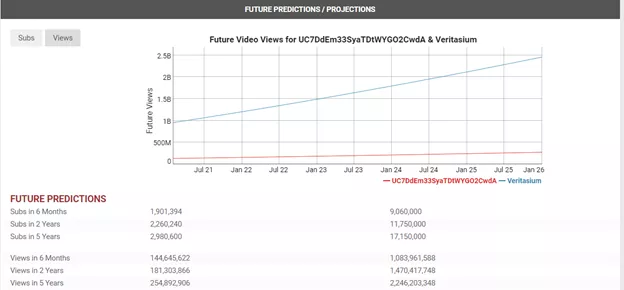 2. Social Insider
Social Insider is a platform for making competitor analysis on various platforms, among these YouTube. The Social Insider competitor tool is available only after setting up an account with them, which is relatively simple. The free version lets you check out 15 profiles; for more, you'll have to pay for a full plan.
It is straightforward to use Social Insider. Once you create an account, you'll see all the available options. Social Insider is an excellent tool for helping with your YouTube channel optimization; there are many specialized features to better tailor your brand. Here we'll only cover the comparative analysis by again analyzing the Veritasium and Physics Girl channels. There are some great key metrics shown for each channel, and the comparative analysis is very detailed.

3. Tubular Intelligence
Tubular Labs is a platform with several features for content intelligence. Here we'll outline their Tubular Intelligence section, as this is intended to help tailor your content strategy based on real data. This tool provides excellent data with performance metrics like views, engagements, and more. You can compare your video content's performance with your competitors, and there are many bases for comparison.
You need to create an account to get access to the Tubular Intelligence platform so you can use all the cool features of this platform. This tool provides an insight into your competitor's strategies. Based on these, you can identify new, creative ways to improve your video SEO and get your videos to perform better than the competition.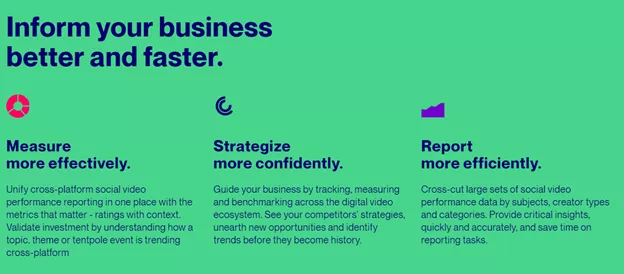 4. vidIQ
Among the many competitor analysis tools online now, here we have vidIQ. This online platform allows its users to perform various analytics, including competitor analysis. To start using vidIQ, you will need to create a user account by signing up to the platform. You'll need to confirm your email address and enter your channel's information so the platform can start analyzing things immediately.
You can enter several competitors and analyze their performance and compare it with yours. We tried the vidIQ competitor analysis tool and analyzed the Veritasium and Physics Girl YouTube channels. Please refer to the images below, where you can see the type of data you can compare with vidIQ.

5. Rival IQ
Rival IQ is a social media marketing analytics tool with plenty of advanced analytics. This platform allows you to try it for a 14-day free trial, to test the features. To get access to the fantastic features Rival IQ offers, you will need to create a user profile. Upon signing up to Rival IQ, you will be prompted to enter at least one competitor brand.
The platform does all the analytics, finding all your and your competitor brands' social media profiles. The main menu is on the left side, and you can check each particular feature. The interesting reports include subscriber base, post engagements, and more. We compared three channels, and you can see some of the comparative analysis in the images below.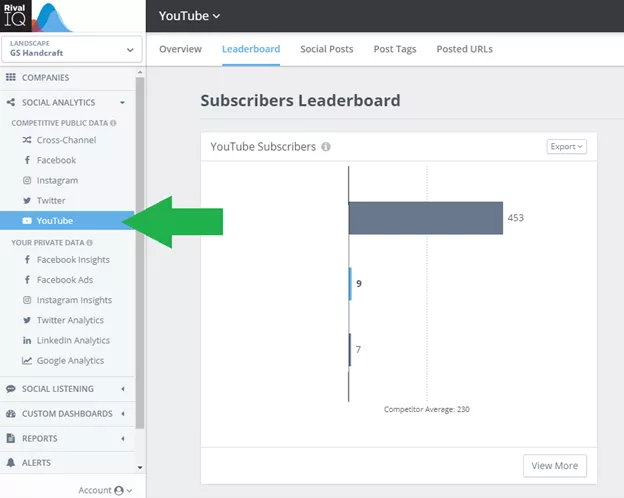 YouTube Channel Management Tools
To better manage your complete YouTube channel, every YouTuber should consider using YouTube channel marketing tools. The tools that we'll outline here have excellent features that enable you to manage your YouTube channel and also allow you to advertise your content to get more subscribers that will become loyal fans.
1. Tube Buddy
Above we outlined Tube Buddy's basics and explained how you could use this browser extension to perform keyword research and analysis. But this is not all that Tube Buddy offers: it has plenty of other tools that help you better manage and optimize your YouTube channel.
Besides the keyword and tags research, Tube Buddy also provides the channel and video analytics, bulk processing, video SEO features, A/B testing, post scheduling, and more. So, instead of doing all the repetitive tasks and risk forgetting a step, you can have Tube Buddy do this for you, ensuring you will not miss a step.
Tube Buddy also has specialized channel analytics and video analytics tools, named Channelytics and Videolytics, respectively. The Channelytics tool gives your channel 30-day detailed analytics with info on subscribers, views, health reports, and analysis of viewer retention. The Videolytics tool provides insight into your videos and channel's performance, providing data on comments, ratings, views, and more.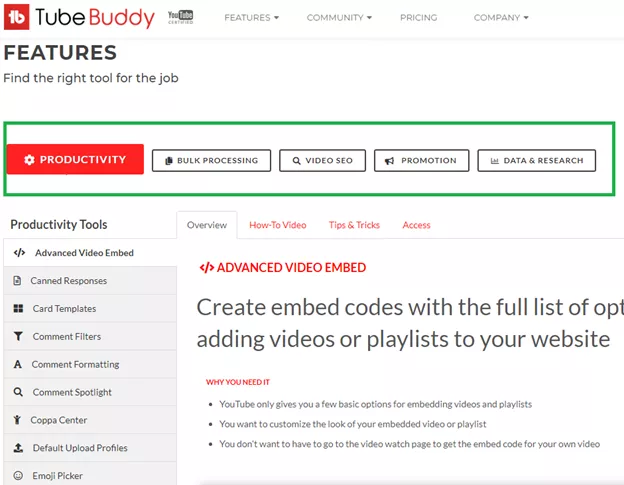 2. vidIQ
Here we mentioned vidIQ as a platform for doing competitor analysis on YouTube. But this is not all this platform offers, as it is a complete YouTube channel management tool with features to completely manage your channel and run a successful YouTube advertising campaign.
This YouTube-certified tool provides insightful data in keyword research and tags; it has a video thumbnail generator, a real-time overview of the most critical channel statistics, and more. It also has a trend alert, meaning you get notified of a keyword's performance and the number of views a trending topic is garnering.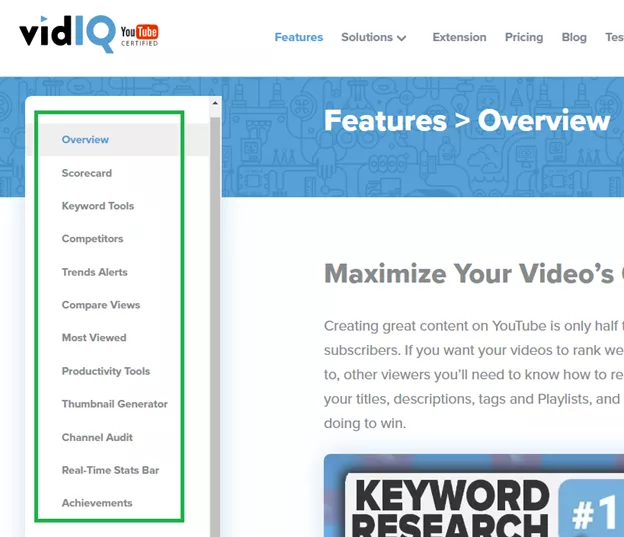 3. TuBeast
TuBeast was outlined here for its keyword research feature, but it has a lot more to offer to any YouTuber. The collective features of TuBeast offer advanced insight into all the details of your YouTube channel based on AI: AI Video Analysis and AI Thumbnail Analysis. There are also the advanced topic research and the TuBeast tracker, which provide notifications about the critical trends happening on YouTube at the moment.
The other useful tools for optimizing your channel are the video metatags optimization and the ChannelSight and VideoSight features. These features provide comprehensive insight into everything going on in your channel and videos. These TuBeast features provide optimization suggestions that can help you boost your YouTube channel.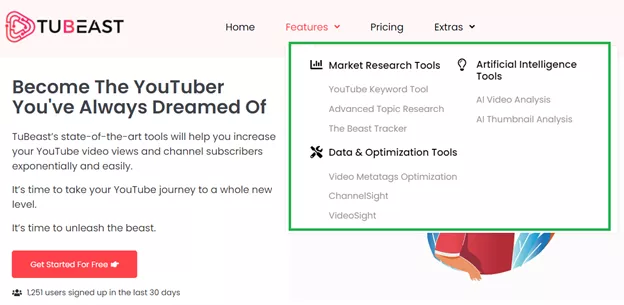 4. Morningfame
This invitation-only YouTube management platform has all the expected features to help you run a successful YouTube channel. Some of the tools Morningfame offers are optimizing your videos for search by analyzing keywords and tags. It makes a comparative analysis of your competitors to define what works and what does not, along with specific recommendations on improving your YouTube channel.
Morningfame analyzes each of your videos for performance, recognizing what works and what does not. Based on the results, you can see how to repeat what works for your videos and channel and change the things that don't work so you can get more views and more subscribers to your YouTube channel.