You've probably noticed when browsing YouTube videos that some videos catch your attention and others don't. If you wonder why this is, you've come to the right place – here we'll talk about what it is that draws your eye towards a particular video. Well, the answer is simple: it's the video thumbnail that is the attention grabber.
Read on as we tell you the importance of YouTube video thumbnails, how to create YouTube thumbnails, and talk about some of the YouTube thumbnail makers available.
Why You Should Use A YouTube Thumbnail Maker Tool?
A picture is worth a thousand words! So adding an awesome picture to your YouTube video thumbnail equals telling audiences to click on your video. The video thumbnails allow the viewers to get an idea of what your video is about. It directly impacts the number of views and subscribers. It is what the viewers will see when they perform a YouTube search. Thus, creating a killer thumbnail means that viewers will more likely click on your video. And remember that the more clicks your video generates, the higher your video CTR, which drastically impacts your video rankings.
Once you upload your video, YouTube will automatically generate three suggestions from snapshots of your video. These auto-generated thumbnails are not very attractive, nor can they convey your video's message in the best light. Think of it as a billboard – the better it is designed, the better it will reflect your content and draw viewers to your video.
Thus, it pays off to upload your custom thumbnail. For this, you will need to verify your YouTube account. Using custom thumbnails is a great way to decide what you wish to show your viewers and add your brand, logo, and other custom text. The video thumbnail will also be the preview image on an embedded player, so you definitely want to have a great image that will represent your content.
How to make a YouTube thumbnail? First, you need to know the size and resolution recommendations from YouTube. The thumbnail image should be as large as possible – to look great on large screens, of course.

Don't worry, as YouTube automatically resizes it for smaller screens. So, for best results, your thumbnails should be:
In a JPG, JPEG, or PNG format
In a resolution of 1280 x 720 (min. width of 640 pixels)
In a 16:9 aspect ratio
Less than 2Mb in size
For this, you can use one of several online tools that allow custom video thumbnail creation. We will cover the top five online design tools that allow the creation of custom video thumbnails. You can also download your thumbnails with a Youtube thumbnail downloader.
Best YouTube Thumbnail Makers Review

You can use plenty of popular online youtube thumbnail editors to create a good YouTube thumbnail for your next video or update your existing video's thumbnails. Here we'll review several of these with more detail on each one. To make a proper comparison between each of the thumbnail makers, we'll also share the advantages and disadvantages of each of these online video thumbnail tools. Keep in mind that this list contains free YouTube thumbnail makers and paid ones.
Let's begin!
1. Canva
Canva has become one of the leaders in online graphic design tools. So it comes as no surprise that Canva is among the favorite tools of YouTube creators and almost all of them know how to create YouTube thumbnail with Canva. Canva is relatively straightforward to use, and its basic plan is free – the only thing you have to do is create an account.
You can sign up with a Google or a Facebook account, and it takes less than a minute to join Canva. After setting your account, you can select what you wish to create. If you go for the paid version, you get extra features like 75+ million stock photos, audio and graphics, 100 GB cloud storage and more, but it will cost you $12.95/month.
Here we'll briefly cover the video thumbnail creation process on Canva. To create a video thumbnail for your YouTube video, you can check out the Canva thumbnail templates, and there are plenty of them. You can upload your photos and use them in your YouTube video thumbnail. The platform allows drag-and-drop design, which requires zero previous editing knowledge on your side. Canva allows all types of editing, customizing the length of your video thumbnail, and much more
Here are some screenshots from the Canva online design tool to see some of the available functions -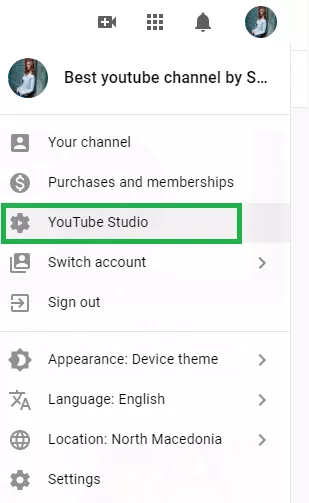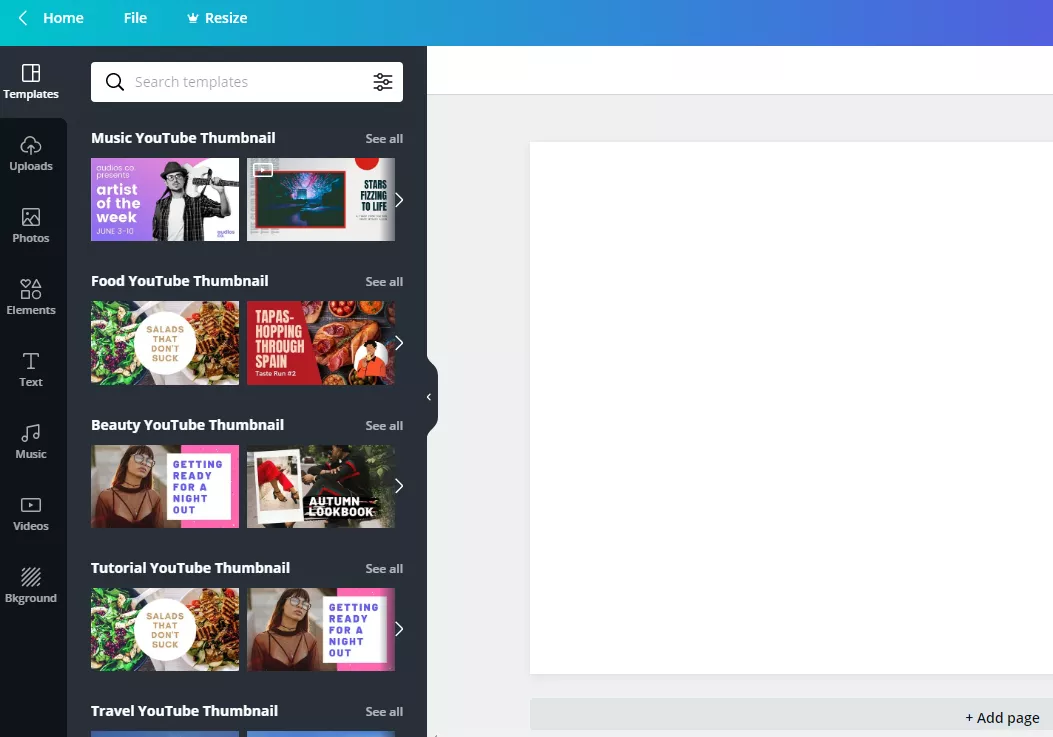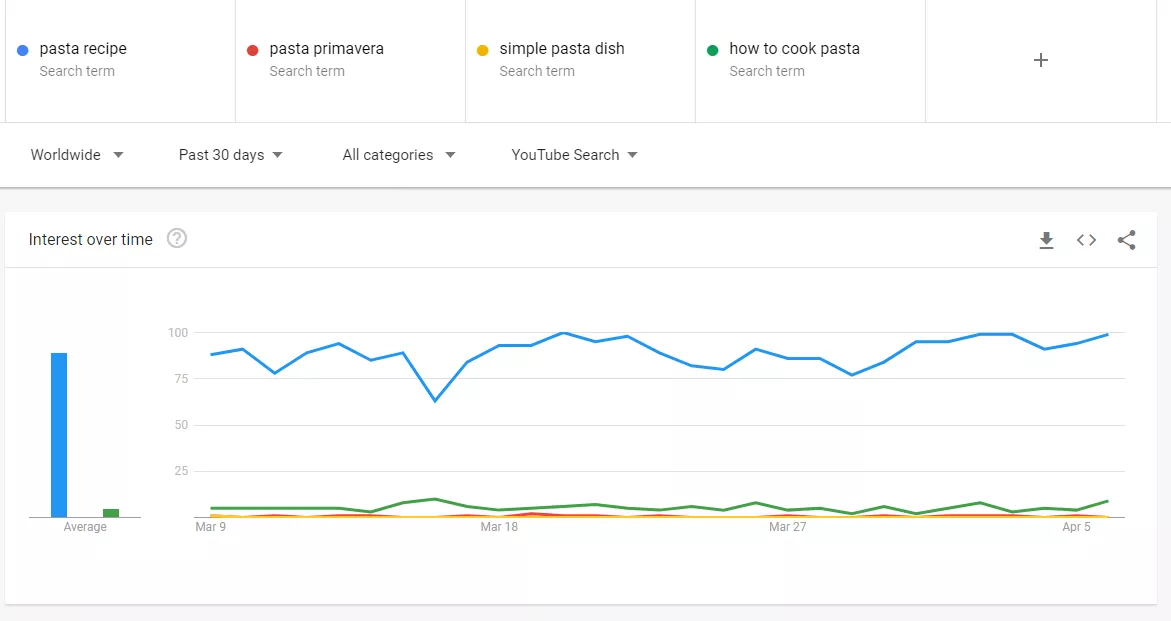 Advantages
Easy to use interface and intuitive navigation
Plenty of formats and export options
Good selection of stock images
A lot of templates to begin with
Smartphone app with the same features as the web app
Disadvantages
The free version has limited features
A small selection of free graphics
2. Photoshop
Everyone wants to know how to create YouTube thumbnail using photoshop. Unlike the other design tools we outline here, which are online tools, Adobe Photoshop is a desktop program. This program is the "industry standard" for photo editing and everything else involved in photo manipulation. Photoshop offers an array of amazing features that allow all types of photo editing, including the creation of video thumbnails.
You can download and install Photoshop only after paying for a plan. The most optimal price plan is valued at $20.99/month. After payment is cleared, you can download the program from Adobe's Creative Cloud website. Follow the step-by-step installation guide, and you should have Photoshop ready on your device in a matter of minutes.
It is a bit more complex to create a video thumbnail in Photoshop, as you'll need to create many elements from scratch. Still, if you have some design knowledge, you can create an appealing video thumbnail for your YouTube content.
Here are some screenshots from the Photoshop program where you can see some of the available functions -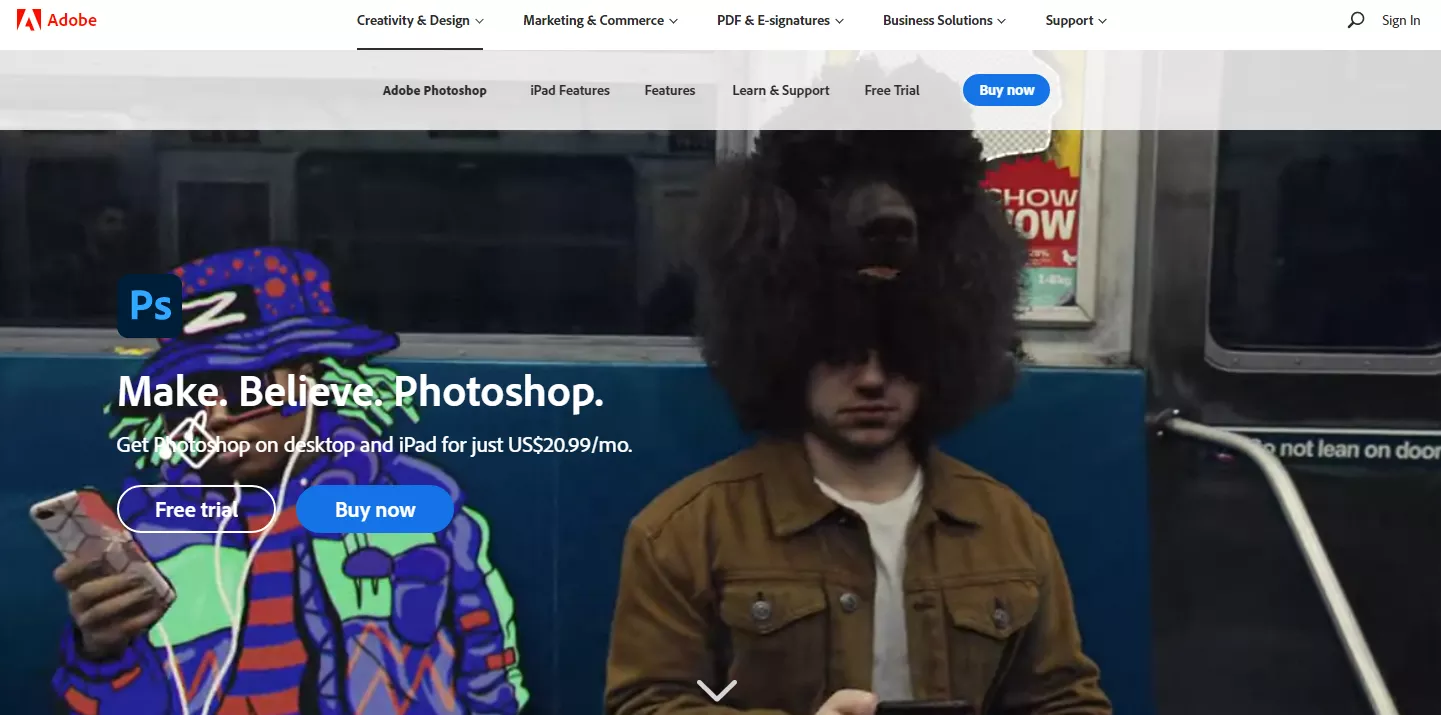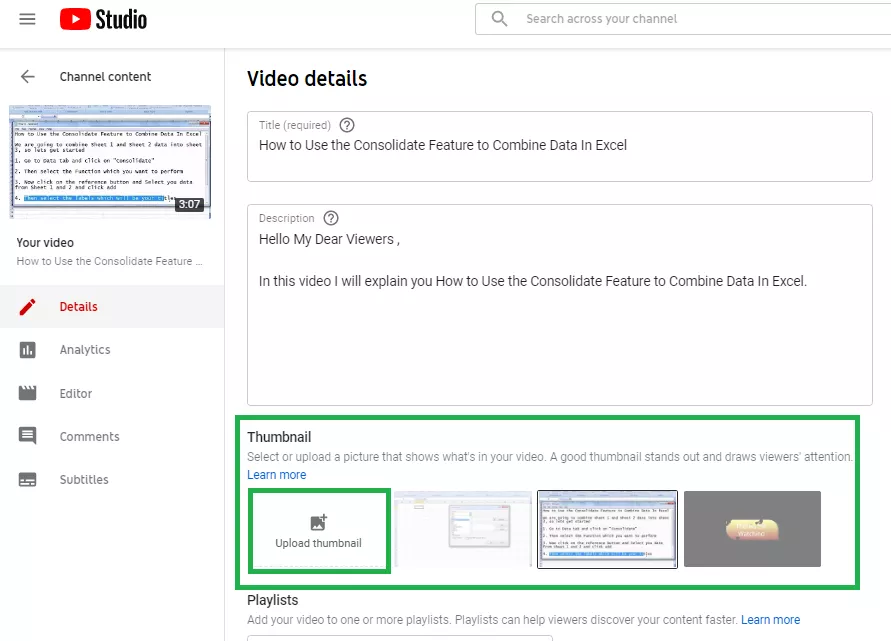 Advantages
Plenty of design tools on the ready
Integrated stock image library with a good variety of images
Editing of all image formats
Excellent program for creating photo montages (which is basically what a video thumbnail is)
Export in a lot of formats
Disadvantages
The price of the program is relatively high for non-professional graphic designers
Not very beginner-friendly, you'll need some knowledge to be able to create good video thumbnails
3. Adobe Spark
Adobe Spark is an online tool that enables you to create all sorts of graphic designs and YouTube thumbnails with ease. To get to use the Adobe Spark for free, you can log into this online app with an active Google, Facebook, Instagram, or Twitter account. Of course, you can get the premium version for $9.99/month to remove the Adobe Spark logo from your designs. Once you are in, you can immediately start creating your thumbnail.
The Adobe Spark online editor offers over 36K templates for various projects. The first thing is to select where the template will be used – in our case, select YouTube thumbnail. You can select a free photo or upload your image. After this, you'll see the thumbnail editor screen where you can simply drag and drop various elements until you have a video thumbnail that you are delighted with.
If you feel inspired, you can create your custom video thumbnail from the ground up. The Adobe Spark user interface is good and has an intuitive design that is very beginner-friendly, which is always welcomed.
Here are some screenshots from the Adobe Spark online tool to see some of the available functions -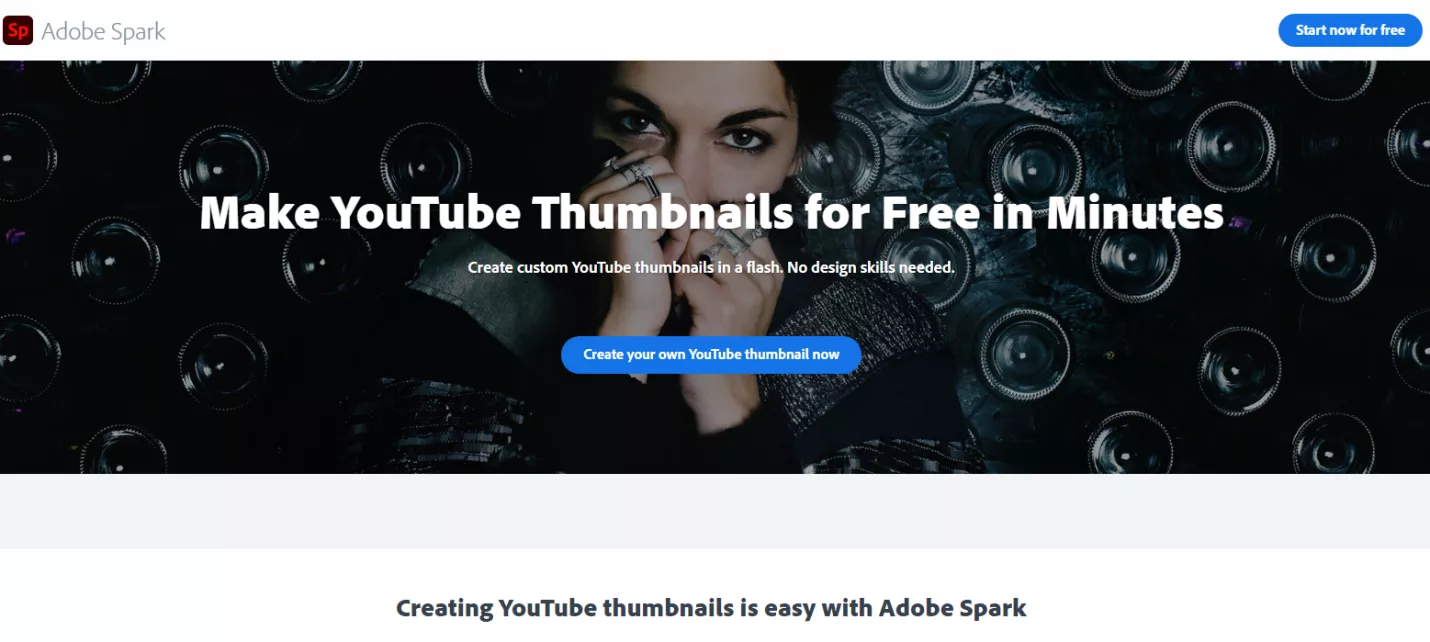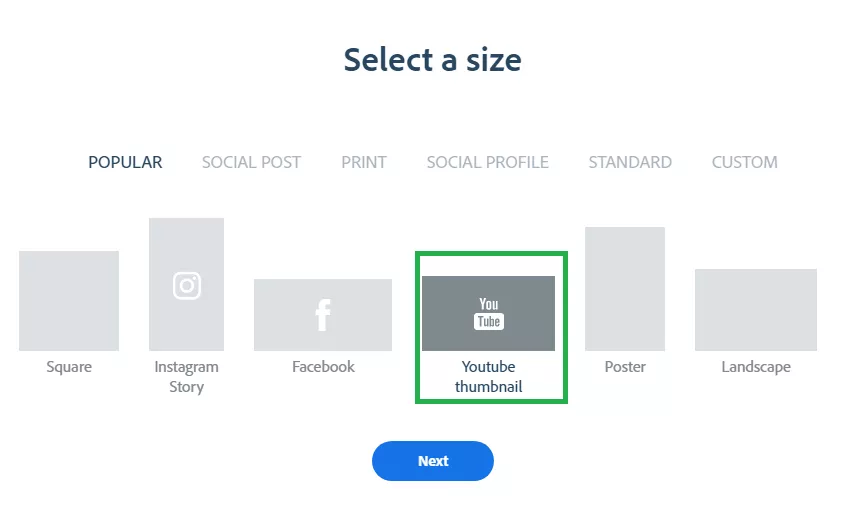 Advantages
Adobe Spark is free to use
User-friendly design and intuitive navigation
Beginner-friendly interface with drag-and-drop option
Great selection of stock images
App-specific templates make it easy to create custom YouTube video thumbnails
Disadvantages
You need a monthly subscription to remove the Adobe Spark logo
Limited font options for free
4. Snappa
Snappa is an online youtube thumbnail creator that enables the editing of any graphic. Snappa has a free basic version with many tools necessary for creating nice YouTube video thumbnails, but it also has a paid version with premium features.The Snappa Pro plan costs $10/month, and it provides access to 4+ million stock images and graphics, unlimited downloads, custom fonts, social integrations and more.
If paying for the premium version is not in your budget, you can still manage to create an appealing video thumbnail with the free version. A note here: the free version only allows three downloads a month..
Here we'll talk a bit more about Snappa's free video thumbnail maker. To start using this tool, you don't need anything special, only a sign in with an existing Google account. Once you log into Snappa, you are shown a preset size with the most common graphic sizes from the various social media platforms.
You need to select the YouTube video thumbnail size, as it is preset to YouTube's recommended dimensions of 1280 x 720 px. Snappa provides templates, but if you wish, you can create a video thumbnail from scratch. For easy navigation, use the drag-and-drop editor to create a video thumbnail that will reflect your YouTube SEO strategy.
In the screenshots below, we show some of the features that Snappa provides. You can see some of the templates and the thumbnail editor with its editing options -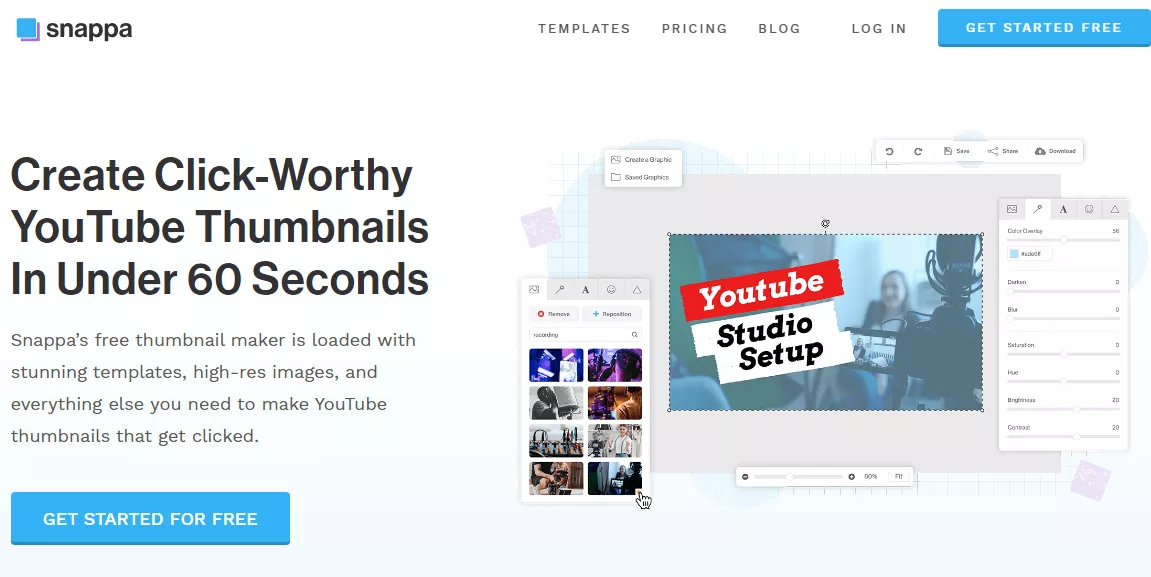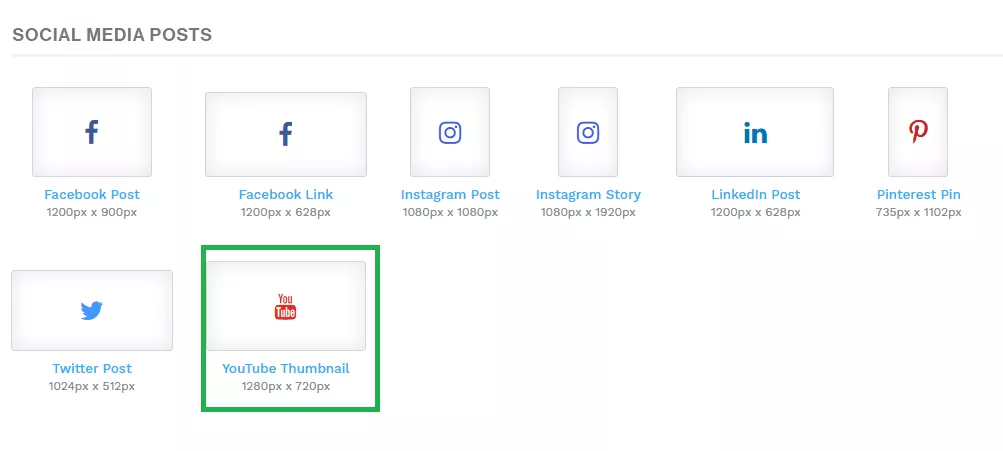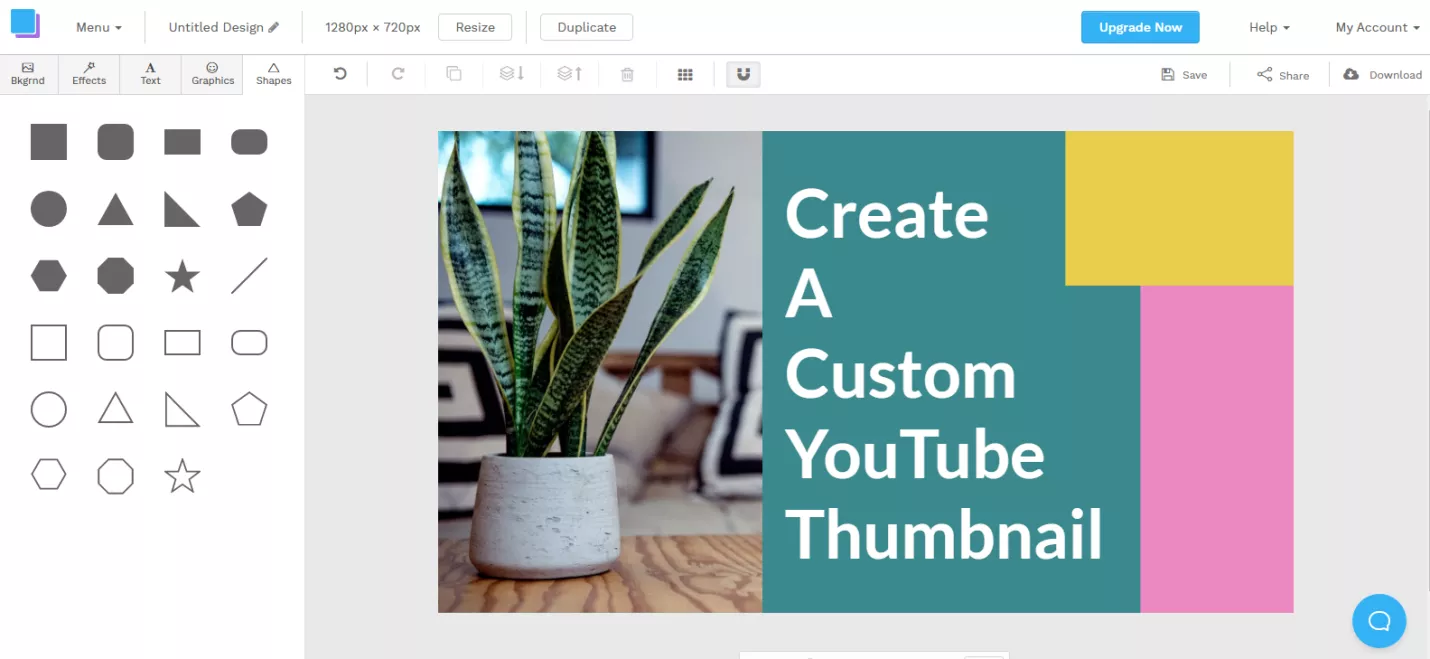 Advantages
Beginner-friendly interface and navigation
Good selection of templates and images
Free-to-use graphics elements
Export in JPG and PNG format
Good selection of fonts
Disadvantages
A limited selection of visual assets in the free version
Minimal advanced options, oriented towards amateur designs
5. PixTeller
The last design tool that we'll outline here is PixTeller's YouTube thumbnail maker. This online tool is simple to use, and you only need to create a free account by registering with an active Facebook or a Google account. This process takes only seconds, and you are free to create excellent graphics for any application, including YouTube thumbnails.
You can use a template or select to start from nothing and create a custom video thumbnail. Once you select your design's size, you can add shapes, images, texts, or drawings. PixTeller offers a limited image gallery in the free version, while the paid version, which will cost you $7/month offers over 1.5 million images, transparent PNGs, custom fonts and more.
You can play around with the available features and create a nice YouTube video thumbnail that will be tempting enough to entice people to become viewers and subscribers to your YouTube channel.
Here are some screenshots we captured while testing out the PixTeller online design tool -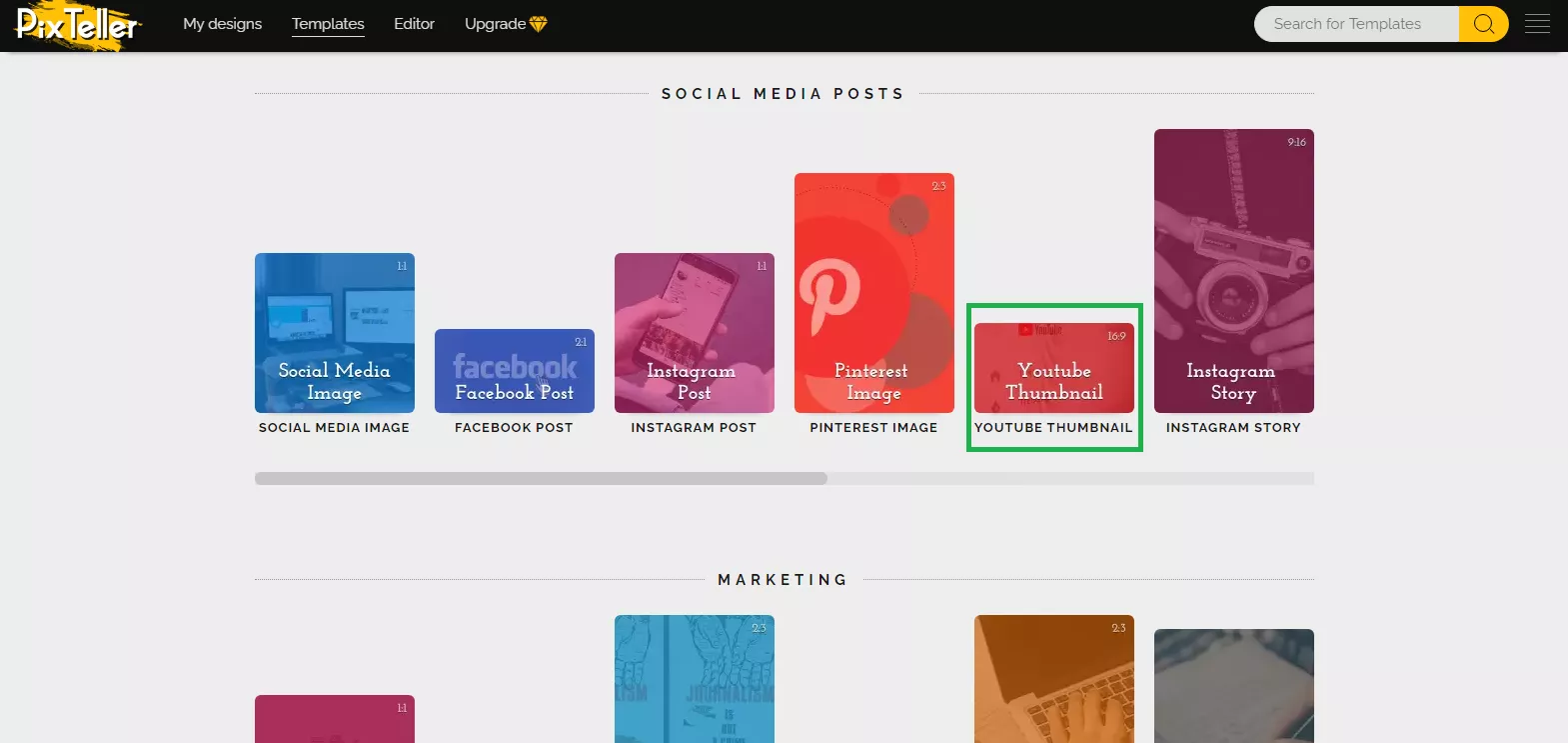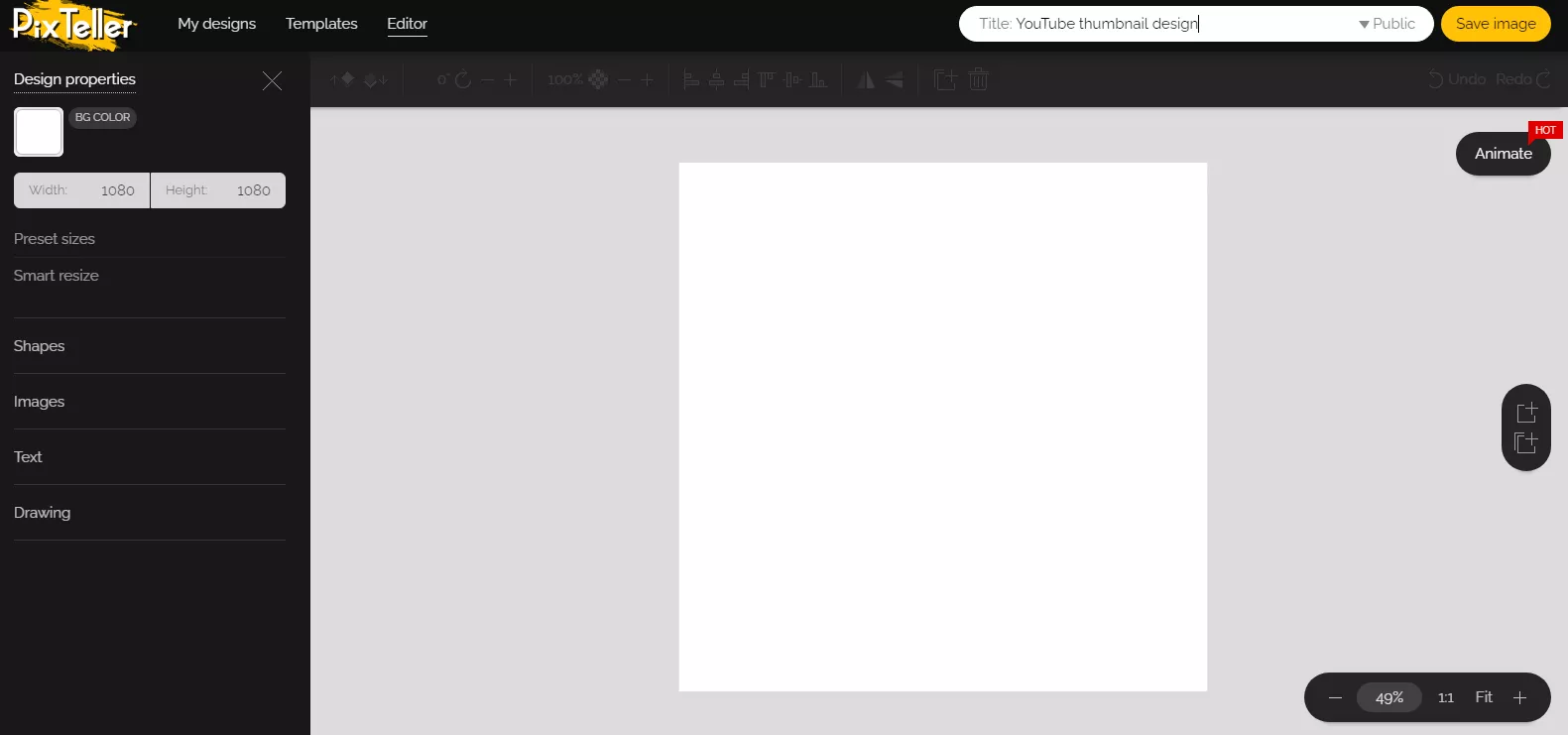 Advantages
A lot of pre-made templates available for personalization
Simple navigation
Many fonts to select
Simple editing tools to help beginners
Save and download in JPG, PNG, and PDF formats
Disadvantages
The free version only allows five thumbnails a month
All designs are public; to create private designs, you need to pay for a premium account
Which Is The Best YouTube Thumbnail Maker – Conclusion
After testing several design tools, we have concluded that there is no uniquely best tool for everything. That said, we need to note that all of these tools have greatly facilitated the process of creating excellent video thumbnails that can enhance your YouTube videos and boost your video CTR (Click Through Rate). For most of them, you don't even need any professional design experience.
Except for Photoshop, as this is a program that offers much more than simple video thumbnail creation. Photoshop is oriented towards the professional graphic designer, and it comes with a price tag to match. Also, not all its features are beginner-friendly, which may prove difficult and time-consuming for the average YouTuber.
From the online tools we tested, the results were closely tied between Canva and Snappa. And we mean this in the best of ways, as both of these online design platforms offer great features for creating and editing beautiful graphic designs. Both of these are easy to use, offer beautiful templates, have intuitive navigation and drag-and-drop options.
If we had to select one, it would have to be "Canva" as the best YouTube thumbnail maker / tool -
We have found this online design platform is the perfect YouTube thumbnail creator and has everything you may need to create unique thumbnail designs - This custom YouTube thumbnail maker will lift your thumbnail designs above your competitors and will surely help you get more views and more subscribers.