Since its launch in 2005, YouTube has grown exponentially. YouTube turned itself into one of the world's top three most visited websites on the internet. Currently, there are over 30 million daily users on the platform. Furthermore, over 300 hours of video content are uploaded to YouTube every minute. It's not surprising at all, then, that so many people are aspiring to become YouTubers themselves. A lot of YouTubers buy YouTube Views nowadays to increase visibility.
There are still plenty of skeptics out there who claim that being a YouTuber is a mere hobby, rather than a viable career path. Another misconception is that becoming a YouTuber isn't worth the effort. The skeptics say this because of the intense, cut-throat competition on the platform.
Truth is, to become a YouTuber you'll have to put in your blood, sweat, and tears. So, if you want to know how to become a YouTube star, you have to make sure that this is something you're passionate about. Also, you'll have to know that YouTube is something you want to do. Besides, you'll have to commit to very hard work. Finally, remember that at least at first your hard work won't pay-off very well, if at all.
If you don't enjoy making videos and all you care about is making money, you'll never learn how to become a famous YouTuber. Unless you truly love making videos, becoming a YouTube celebrity is something that you shouldn't do. All YouTubers start off not making any money. So, without passion and perseverance, you'll fizzle out and give up rather quickly. But, if you're excited about recording videos and by the thought of building a community and meeting and helping new people every day, you should definitely keep on reading this blog post.
In this blog post, we'll explain how to become a YouTuber, but rather than a 'regular' YouTuber, a successful and famous one!
Expected Costs And Resources
Video Producing Equipment
Being a successful YouTuber will require you to spend money. That's just a fact. How much money you spend, though, is totally your call - you can record videos on your smartphone if you don't want to splurge on all the expensive equipment out there, or you can go big and buy lighting, cameras, and microphones to produce the best quality videos out there.
Cameras:
Cameras are obviously an essential part of your YouTube gear. You can either use your smartphone camera, or buy a new camera specifically for making videos. Here are some camera recommendations:
Canon PowerShot G7 X Mark III - This camera is small but powerful. It has the option to plug in an external microphone for better audio recording and can also stream directly to YouTube, which is awesome if you're live-streaming!
Canon EOS 90D - This DSLR camera has uncropped 4K recording, a mic input socket and an adjustable touchscreen that can face forward for framing while filming yourself, which makes it perfect for YouTubers.
Logitech C922 - This webcam is perfect for gaming YouTubers because it has a resolution of 1080p at 30fps, which makes it super high quality. It also has a tilt feature and is mountable on a tripod. The sound quality is a bit off with this one, though, so we recommend using an external microphone with it.
Microphones:
On YouTube, your audio quality needs to be just as good as your video's quality. Filming videos in 4K is awesome, but it won't do the trick if your audio quality is subpar. Here are some microphone recommendations:
Blue Yeti USB Microphone - This is a favorite among YouTubers. It works with both Windows OS and Mac and comes with a USB cable - all you have to do is plug it in.
Rode SmartLav+ - This is a lavalier microphone that's discreet but produces high-quality audio. You can even plug it into your smartphone for voice recording on-the-go.
Rode VideoMic - a staple for YouTubers. This shotgun microphone mounts on the top of your camera and produces high-quality sound.
Tripods and Gimbal Stabilizers:
Tripods are essential for camera stabilization and mounting. If you want to film hands-free, a tripod is definitely necessary. Here are some tripod and gimbal stabilizers recommendations:
Joby GorillaPod Tripod With Ball Head - this tripod has flexible legs that can conform and bend to fit any surface, in any position. You can use it anytime, anywhere, which makes it perfect for vlogging.
Manfrotto Compact Action Tripod - This tripod is more suitable for studio/indoor filming. It can hold both small and large cameras safely and is a staple for YouTubers all over the world.
Being a YouTuber Takes a Lot Of Time
YouTubing is hard work. Not only will you need to take the time to film your videos, but you'll also need time for planning, make competition analysis on YouTube and editing your videos. Some people say that being a successful YouTuber is a full-time job, and for good reason: most YouTubers are on the grind seven days a week.
YouTube is time-consuming for many reasons:
Whether you're doing content research or you're busy marketing your videos and promoting them on social media, you're always "on duty". You also have to engage with your audience to build a community around your channel and brand, and run constant tests and analysis of your content to make sure you're performing at your best and optimizing your channel performances.
Channel Niche - How To Choose Your YouTube Channel Niche?
You need to have a clear idea of which industries or topics of interest you'll be focusing on in your videos. A niche, essentially, is a group of people that share the same interest or are looking to fulfill the same needs.
Your niche is your YouTube foundation. Choosing your YouTube niche will benefit you as a creator. For instance, it will keep your content focused and cohesive. It will also direct the "right" crowd to your videos. Choosing one that you're passionate about will help you persevere as you grow on the platform. Your niche decision need to be personal, genuine and you should remember that the best niche for YouTube is what we've described above - it solely depends on you!
you should not make a decision solely based on the most profitable YouTube niches - if your channel is interesting and popular enough, the money will find its way to your pockets!
Follow Your Passion
When choosing a niche, you have to follow your passion. If you're not passionate about your niche, you'll soon find it super difficult to produce videos. Sit down and really think about what you're passionate about in life - what could you talk about for days on end and not get tired of it? That should be your niche.
What Are You Good At?
Choosing a niche also has a lot to do with relevancy. Start by asking yourself "what am I good at?", "What are my habits?". You need to make sure your niche is relevant to you. If you're extremely good at makeup and are passionate about it, go for that niche. If you love gaming and take it very seriously, that might be the niche for you. Whatever you choose, make sure you have the skills to show your audience so you could add value to their lives.
Stick To Your Chosen Niche
The key to become a famous YouTuber and being successful is focusing on one niche and sticking to it through thick and thin. While changing niches is possible, you don't want to do that too often (or at all) because people will find you unreliable and flaky. Sticking to your niche shows consistency and reliability, which in turn will make your audience that much more loyal to you and more active and engaged with your content.
Consistency And Content Schedule
Create A Content Plan
Don't let yourself get stuck without content ideas. Plan your content ahead of time so you'll always have something fresh waiting to be produced. This will make coming up with videos that much easier on you in the long run and will also help to keep you focused.
Schedule Frequency
Think about how many times a week or a month you'd want to upload new videos. Make sure you don't bite off more than you can chew and keep your schedule simple - if you're working a full-time job, you obviously won't have the time to produce new videos every day, so don't even go there. You'll be doomed to fail. Instead, opt for a more flexible schedule. However, if you're unemployed (for example), you might want to consider a more intense posting schedule. The most important thing is to set a schedule that you can keep up with. In addition, try to find the right time to publish your videos to optimize your future video performance.
Beware Of Burnout
YouTuber burnout is a real thing that a lot of creators struggle with on the platform. Over the years, a lot of famous creators mentioned they felt "burnt out" from doing YouTube full time.
Burn out basically means you're stretching yourself too thin, biting off more than you can chew. This, in turn, could lead to feeling disengaged, unmotivated, and bitter towards your audience and craft.
Here are some things you can do to avoid burnout:
Make sure you take care of yourself. Eat right, get enough sleep, maintain a healthy daily schedule, and don't work well into the night on editing and filming videos. You matter more than your content does.
Be realistic about your goals and schedule. Don't stretch yourself too thin by producing a video every day if you have other things going on in your life. Make sure you're not over-doing YouTube.
Build a team of people to help you out if you feel like YouTube is becoming too difficult to handle. If you're not good at editing videos - consider finding an editor on websites like Fiverr. Find someone to help you with your thumbnails, perhaps, if you feel like you're taking too much time to make them. A team of professionals can really change your life and keep you from burning out.
Personal Channel Branding
Every successful YouTube channel has its own unique branding. You should brand your channel, too. Branding might sound like a difficult task to accomplish, but in reality, it's pretty easy to do. Here are 5 things which could drastically boost your YouTube channel branding and reputation -
1. Channel Trailer
Your channel homepage can feature a channel trailer - a short video that automatically plays when someone lands on your channel page. This trailer is meant to showcase your best work or introduce newcomers to your content. Filming a channel trailer is important because it can easily convert random viewers into subscribers.
Your channel trailer should be short and to-the-point. Don't make it too long, because that's not what it's here for. The most effective trailers are up to 90 seconds long - which is more than plenty of time to introduce yourself and your content to newcomers.
You should, therefore, script your channel trailer out carefully to make sure you fill each second with valuable and crucial information about your channel and content. Things like who you are, your posting schedule, and what type of content people can expect from you are all great things to include in your channel trailer. You can read more about how to create a good YouTube channel trailer here.
2. Banner Art
Another thing you should consider when creating your channel is what your banner art looks like. Your YouTube channel banner is shown at the top of your YouTube channel page and is somewhat like a "welcome mat" for your channel. If you don't make it attractive enough, people will be much less inclined to subscribe to your channel or even watch your content altogether.
Your banner art, or "cover photo", is the very first thing people see when they click on your channel. Here are some key pointers to remember about your banner art:
For the best results on all device types, use a picture that's 2560×1440 px in dimensions.
The file itself has to be smaller than 4MB.
Keep your "elements" in the center. Any image, icon, or text should be kept in the center of the image so everyone could see it clearly.

3. Video "Intro" Clip
While a video intro clip isn't a must, it's recommended to have one made because it makes your video look more professional. Here are some things you must consider when creating a video intro -
This little "intro" clip should be around 3-5 seconds long and should show your channel logo clearly.
Avoid making your intro clip longer than 5 seconds, because that makes people very annoyed. Keep it sweet and simple.
Finally, avoid adding it at the very beginning of your video. Your first 15 seconds are super important and you should be introducing your content in them, and not waste people's time with an intro clip.
4. Unique Thumbnail Designs
If you want people to recognize your content at a glance, make sure you design your custom video thumbnails in a unique way. Adding your logo or color scheme to your thumbnails can really make them pop on the platform, and will allow people to recognize your content in a split second. Take CNN's YouTube channel, for example: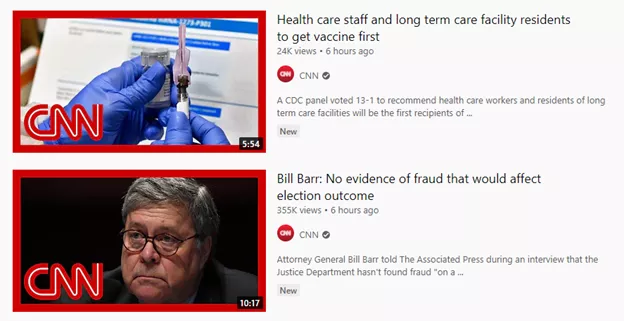 The red frame and the company logo make sure you can tell that this content belongs to a famous channel, which makes people want to click on it and watch it.
5. Be Unique
Don't try to imitate other YouTubers. Find your own voice and style and use it in your videos to differentiate yourself from the crowd of other YouTube creators out there. Whether you'll use certain sound effects or visual effects in your videos - make sure you make them yours.
Collaborate With Other YouTubers And Content Creators
There's no better way to grow on YouTube than to make friends with other creators and collaborate with them to create content together. Collaborations can get you more subscribers and viewers and will spread the word about your channel and content. There are two ways to find YouTubers to collaborate with:
YouTube Collaboration Platforms
YouCollab is a YouTube collaboration platform that brings content creators together. It allows you to filter creators by subject/niche and subscribers number so you can find your ideal YouTuber to collaborate with on a video.
ChannelPages is another YouTube collaboration platform that not only connects YouTubers with fellow creators, but it also connects between YouTubers and brands.
YTTalk is an online forum for YouTubers. It offers a board where you can find fellow YouTubers to collaborate and connect with from all over the world.
Find Related Niche Influencers
If you don't want to join a YouTube collaboration platform, that's fine. You can reach out to creators on your own to collaborate with. A good place to find creators would be Facebook groups - people are always looking to collaborate on there.
Promote Your Channel Videos Organically
Don't be shy about letting the world know that you've uploaded a new video. Go on Facebook groups (that are relevant to your niche, of course) and let the people know that you've got some new content out there. Use Twitter, Tumblr and other social media outlets to promote your video content. You can even go on Q&A sites like Quora and post links to your videos in relevant answers, as well. It's all fair game.
Audience Engagement - Stay Engaged With Your Audience
YouTube has a very strong social aspect to it. You don't just upload a video and leave - you can comment, discuss, like or dislike and engage with other users on the platform. There are several ways to keep your audience engaged, without having to buy YouTube likes.
Community Tab
The community tab is where creators can post:
The community tab is available for everyone over 1,000 subscribers and is very recommended to use. It gives the channel a bit more of a "social media" feel to it and subscribers and visitors are free to respond and react to these posts. In your community tab, you can post polls, create a buzz around your content and promote it, and simply communicate with your audience directly.
Here are some good and creative examples of community tab posts: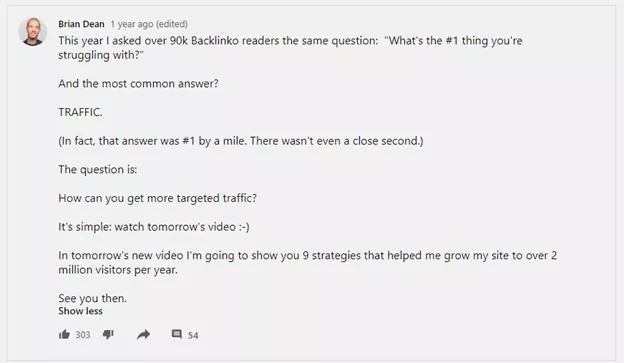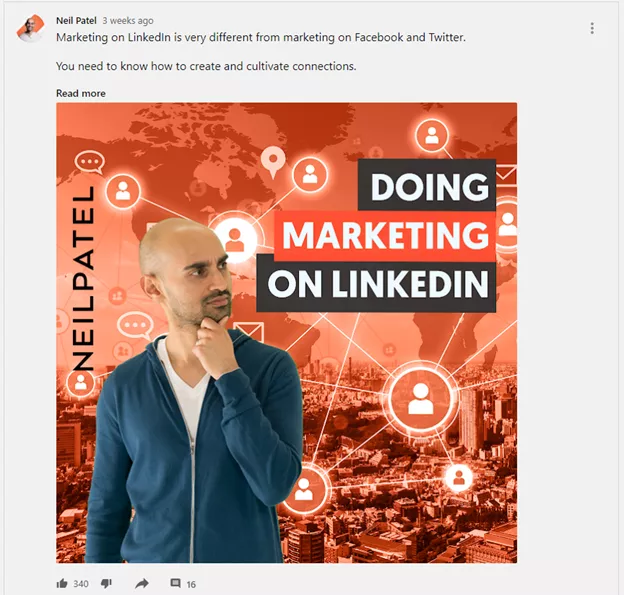 Reply To Comments
This is super important, and when you're a smaller YouTube channel, it's super easy to do, as well. When you reply to comments, people feel like they have an open line of communication with you. The more engaged you are with your audience, the more likely people are to watch your videos and subscribe to your channel.
Use Calls-To-Action In Your Videos
Calls-To-Action (or CTAs) are verbal and visual cues that you give your audience in order to make them perform a desired action. Did you ever wonder why every YouTuber always asks people to "subscribe" at the end of each video? That's their CTA!
In your videos, invite your viewers to participate in discussions in the comments by asking them questions throughout your video. Ask your viewers to subscribe and enable notifications on your channel to stay updated with your content, ask them to like (or dislike) the video, ask them to go buy your merch or products (if you have any)... the possibilities are endless.
Channel Optimization
Check Your Channel Analytics
YouTubers are obsessed with checking their analytics, and for good reason! There's so much you can learn from your channel analytics. From audience demographics to video retention rates, looking at your analytics will reveal what you're doing right in your videos - and how you can improve them, as well.
Check Your Videos Audience Retention
You don't have to wonder if your video is doing well or not, and you don't have to wonder why people stop watching your videos and when. Your audience retention graph will show you everything you need to know - where people are dropping off, for example. This information is important because if people are consistently dropping off at a certain point in your video, you can then improve it in your next videos or film that video again if you so choose.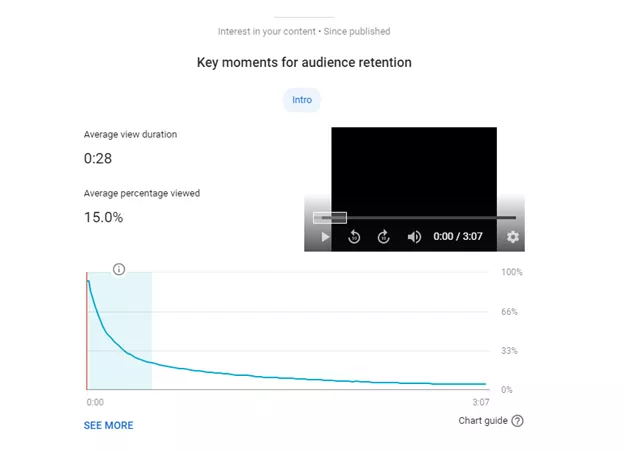 Check Which Videos Perform Better (And Worse)
The smartest thing you could do is segment your video content and analyze which videos perform better. This way, you could focus on the "right" content to keep your audience watching and engaged. For example, you might have a DIY and lifestyle channel. That means that you're making tutorials and "a day in my life" type of videos. You might find out that your tutorials are getting more traction than your "day in my life" videos, and this might mean that you should focus on creating more video tutorials content - because they are more successful and generate more views and subscribers for your videos and YouTube channel.
You Need To Understand What Is Video SEO
This is something everybody should do on YouTube, but a lot of people don't - and that's why they fail to grow. Video SEO is the process of optimizing your videos for YouTube's search engine by using the right keywords in your meta-data and your video.
Video SEO starts with Keyword Research. In this process, your goal is to find the best keywords to target in your video and video meta-data in order to rank better on the platform and make your content more discoverable. You can use these keywords in your tags, video description and video titles. Furthermore, using the keywords in the video itself will help you rank better because YouTube can "listen" to your content and transcribe it. The goal is to give the algorithms context and better understanding of what your content is about.